What to do When You're Deferred | 5 Tips to Get Accepted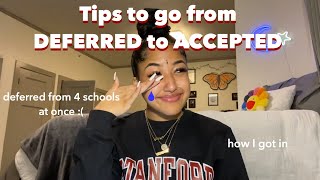 Check out my QuestBridge video: https://youtu.be/GzgrgvzIw88
Find out How I Got into Stanford: https://youtu.be/aJ9eb9LMC40
Watch my College Application Story: https://youtu.be/ypXnUTBqkl8
Hey y'all! Welcome or welcome back to my channel.
This video is about how to go from deferred to accepted at your dream school! I talk about tips and my experience of being "deferred."
Thanks for watching!! Let me know what other aspects of Stanford you guys would like to see.
The essays that got me into Stanford: https://docs.google.com/document/d/1Y…
I Viewed My Admissions File…: https://youtu.be/lzfJ0pDAYTQ
Dorm Tour: https://youtu.be/k9O4OzINMy8
Move-In Vlog: https://youtu.be/QNNBTv24shM
Check out my QuestBridge video: https://youtu.be/GzgrgvzIw88
Find out How I Got into Stanford: https://youtu.be/aJ9eb9LMC40
P.O. Box:
Nazjaa Hughson
531 Lasuen Mall
P.O. Box 15618
Stanford, CA 94309
About me:
School: Stanford University
Intended major: Psychology
Age: 19
Instagram: @nazjaa
#STANFORD #NAZJAA #DEFERREDtoACCEPTED