Finding Teachable Moments on the Field and in the Classroom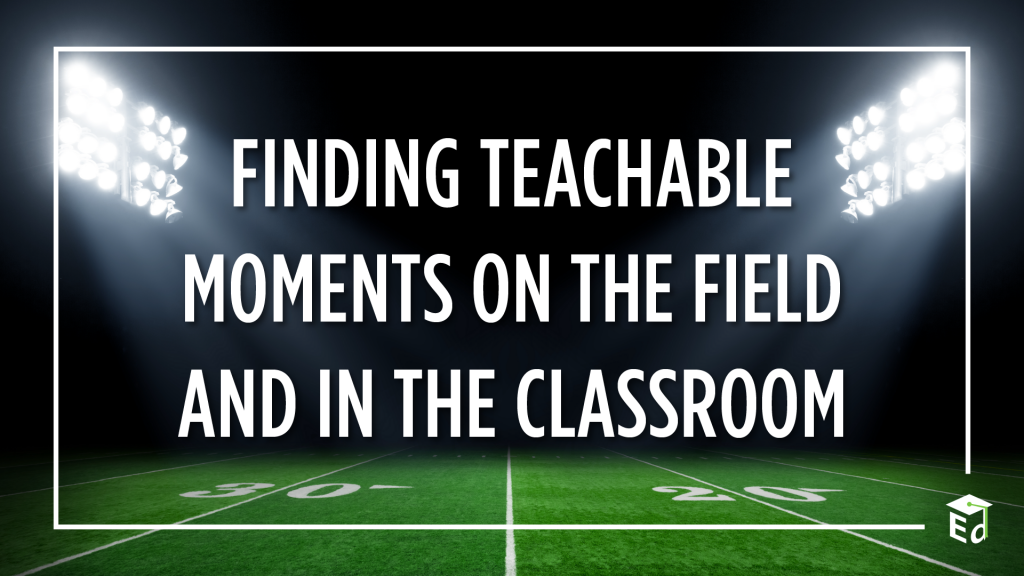 This Sunday afternoon, the world will watch the 55th Super Bowl take place in Tampa Bay. While these football professionals play the last game of their season, high school coaches around the country are preparing for their next. Many of these coaches are tasked with balancing responsibilities as leaders on the field and as educators in the classroom. Among them is Chris Davidson of Ridge Community High School, about an hour outside of Tampa Bay .
Davidson has been teaching since 2003 and coaching since 1993. A walk-on at Temple University, Davidson realized he was too small and too slow to truly compete at that level. So, he pursued coaching. He started his first coaching gig shortly before his 20th birthday. Five years later, he landed his first head coaching job.
Coaching on the field led to teaching in the classroom. He has spent 14 years teaching Social Studies – primarily World History – and currently teaches Physical Education at Ridge Community High School (Ridge).
Ridge lost their first three games of the 2020 season by a close margin and went on to win their next three. That's when Davidson was named "coach of the week." Ridge continued winning. At the end of the season, all of the "coach of the week" awardees were put up for the Tampa Bay Buccaneers ' Coach of the Year. Chris won with about a third of the total votes.
"I was amazed. I fully didn't expect that. This is a team award. It's not me. It's our program's award."
Much of his focus is on those students who need a little more attention than others. He wants to help them find a way to succeed in high school so they can get opportunities in higher education.
"The number one thing I want to do is give every kid the opportunity, if they want, to play at the next level."
Because playing at the next level means getting an education on the next level. While football isn't the only way to get there, he knows his athletes would be fulfilled by obtaining a quality education while playing a game they love. Beyond that is their career made possible by the opportunity of higher education. He's even had several athletes go pro.
"You show them that there's a way. For a lot of these kids, this is their chance."
When he was coaching at a different school in Florida earlier in his career, he had a student transfer to his program who was experiencing personal challenges. The student lived on his own, and sometimes struggled to maintain reliable shelter. He was in and out of school, but he wanted to play football. Davidson helped this student get into credit recovery classes to get him caught up with his peers and better positioned to graduate. After working hard to complete the classes and graduate, a community college in Kansas accepted the student.
Unfortunately, not every success story reaches its full potential. The young man returned to Florida after a semester in Kansas, missed his flight back, and ultimately decided not to return to the community college.
"It does weigh on you. They all take a little piece of your heart."
Yet, Davidson knows it would be a disservice to the next set of students each year if he let that disheartenment change the way he interacts with them or affect the energy he gives them. He hopes that the next group will provide him with another opportunity to make an impact.
Davidson and his staff believe in teachable moments. Interacting with students around the campus is important. The way he conducts himself around them helps with the way they conduct themselves.
"When you can have meaningful conversations and you realize that students get it and they're unraveling things – it's an energy of its own. You can feel it when a kid has it."
Davidson understands that teaching requires focus, understanding, and sympathy for his students. He knows schoolwork can often be a lower priority for a student who isn't meal-secure or struggles to maintain reliable shelter. Every kid is different. Every situation is different.
"You have to be there for kids. You have to be a constant in their life. You have to be flexible."
At the end of the day, at the end of the season, at the end of the school year, Davidson cherishes the private message or phone call he receives from a former student he may have coached years ago. A simple "thank you" or an elaborate update on a major life event each hit him the same way.
"Those are the reasons you get into coaching. No matter how down you are, it boosts you back up. It reminds you why you're doing it in the first place."
Published at Fri, 05 Feb 2021 20:27:56 +0000