What To Do After Cancelled Board Exams? Begin With Summer Internships
Let's get back to the past for a moment. You were leisurely meandering around the house, taking frequent glances at the TV, waiting for the uncertainty of his 10th board exam to end when suddenly, the headline popped up on the screen – CBSE class 10th exams cancelled!
Soon, other boards made the same announcement followed by the postponing of the 12th board exam as well. 
While most of you are quite happy and relieved about it, there's this slightly oxymoronic feeling that took over the rest. It is as if you've been running a marathon the entire year and right when you were about to sprint across the last 100 meters, everyone is halted. 
As you already know, the assessment now will be based on your internal marks, and to be honest, it's a little frightening. The preparation you take for board exams is not at all the same as for internals and there's always the chance of a drop in the grades. 
What Do You Have Left Now?
More than 3 million students, along with you, were about to appear for board exams this year. Everyone is hustling to stand apart from the crowd and this year, we don't even have the option of scoring good marks in board exams. 
Top of this, almost 2 lakh students score more than 90% in their board exams. 
You feel the pressure, right?
Accepting the fact that 10th and 12 board exam marks play a vital role in shaping our future career, cancellation of exams is actually going to be a big disadvantage to the students. 
So, after calculating everything, what can you do to fill this gap? 
Time To Update Your Resume – Literally!
As the second wave of Covid-19 hit us hard, we're confined within the four walls of our home again. Now that exams are cancelled as well, you've got plenty of time on your plate. 
Now trust us, it really is the perfect time for a summer internship; to make an impressive resume that will place you on the top of the heap. 
Let us make it a bit more convincing.
What if we say, we've something for you which can not only highlight your resume but help you find the right job that matches your personality as well?
Keep reading!
Virtual Internship Program (VIP)- How Is It Relevant For You?
The Virtual Internship Program is an online internship program based on 18 different courses. It's an excellent opportunity for you to gain work experience in different careers while developing communication, time management, and other vital life skills
We know you already have a lot of questions to ask. After all, is a summer internship from the comfort of your couch really worth it?
Well, all it will take is just 1-2 hours in return, it offers –
An Internship Certificate

A Detailed Skills Report 

Expert Videos

Professional Tasks and Assignments

Simulated Work Environment
There are several other benefits of VIP as well which still might make it more relevant for you.
Read on!
Why Choose The Virtual Internship Program?
VIP is a unique opportunity to gain a fresh industrial perspective, get career experience, unleash your inner potential and make the most of this spare time! In turn, this summer internship will help you figure out what you might want to study at college or what career to pursue.
To cut the long story short, here we're presenting some data.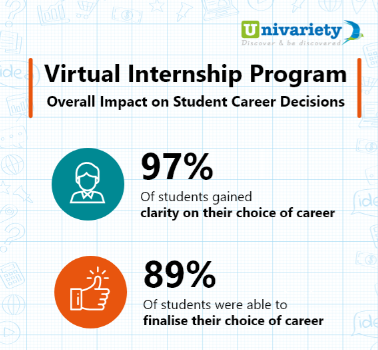 Let's understand in detail now.
Make Informed Career Choices
What if Sundar Pichai chose humanities instead of engineering? That certainly wouldn't be the best combination! VIP can give you the clarity to confidently pursue a career. Through the interactive sessions with industry experts, it gives you a clear idea and in-depth knowledge of the career you're interested in 
That is the reason after completing VIP, 75% of the students became sure and were more likely to pursue the career they had experienced. And the rest 25% decided to reconsider the career option they thought to pursue before. 
Boost Your College Profile
We already talked about the tight race you're going to face after 12th. Colleges look for something unique and here you have the chance to stand apart from the competition. 
Unlike other summer internships, VIP comes with an exclusive reward – a certificate of your experience. This certificate in your resume will highlight your truest interest in the career, making a stellar college profile. 
85.2% of students enjoyed the practical activities during VIP, making them ready for the future. Don't let this chance of impressing the admission officers go away!

Wrapping It Up!
Let's look at the brighter side of the picture. Not everyone has the opportunity to have their exams cancelled! Where exam marks have been the key factor in admissions, this year you have  the chance to stop depending on it. 
Here's a great opportunity to have a break from studies and go for a summer internship; start focusing on extracurricular activities which in turn, will help you stand out from the crowd and work on your career choices. 
Tell us what's stopping you from choosing the right career path and building a strong college profile in just 1-2 hours? 
Learn More About Summer Internships
Need more help? Reach out to our expert counsellors for clearing all your doubts!
Book A Session
Published at Tue, 20 Apr 2021 16:02:15 +0000
Article source: https://blog.univariety.com/career-development-through-summer-internships/