PhD Application Tips that got me into Stanford, Berkeley, MIT etc COMPREHENSIVE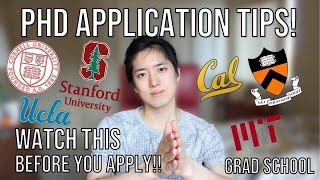 I cover the entire application and explain the proper mindset to craft a great PhD graduate school application. Using these tips, I was fortunate to get into EE / BioE PhD programs at Stanford, UC Berkeley / UCSF, Princeton, MIT, UCLA, UPenn, and Cornell. This advice is most relevant to STEM PhD grad programs, and I hope you learn something useful.
LIKE AND SUBSCRIBE if this was helpful!
Other PhD Videos:
What is the PhD? Is it worth it? Comprehensive video:

My EE Quals experience at Stanford:

#phd, #stanforduniversity, #gradschool, #school, #student, #students, #ee, #electricalengineering, #phdstudent, #phdstudents, #gradlife #gradstudentlife, #gradstudent, #research