Online Class via Zoom: (use of videos, whiteboard, and Zoom Breakout Rooms)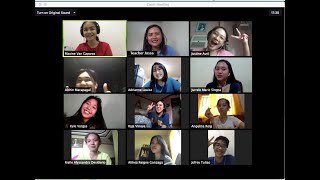 Good day! This was my online class demonstration last June 2,2020 via Zoom. I used Zoom Whiteboard for motivation, youtube video for discussion, and Zoom breakout rooms for group sharing. All participants were volunteer MariSci students (thank you all!) and gave consent in posting this on my youtube channel. We hope that this would be a great help for many teachers and students who are exploring online platforms. God bless!
* Please ask permission if you are going to download and use the video as an example of online teaching in your seminar, conference, training, or workshop.
References:
Brain and Mental Health
https://www.youtube.com/watch?v=MyxCjnHqBq8
Tanglaw Mental Health
https://www.facebook.com/tanglawmentalhealth/
Modules of Dr. Boboy Sze Alianan
Ateneo de Manila University, Department of Psychology
aalianan@ateneo.edu
Special thanks to:
my husband, Juan Carlos Francisco
my friends, Precious Macalipay and Lester Mendoza
my students, Stef, Max, Aira and Angelo