Make Up For The Cancelled 10th Boards- The Profile Building Program
1.4 Million.
That's the number of students who had registered for the CBSE 10th boards this year. 
Now, with the 10th board exams already canceled, these students will be assessed based on their internals and practical marks. And just in case a student is dissatisfied with the scores from the above assessments, he or she has the option to apply for the 10th board exams later.
Situation Now
The most popular question that's been doing the rounds since the news broke: Will the above assessment metrics hold enough individual credibility for the students in the future?
Because let's be honest, the grades of a student in a competitive exam are the very first metric that is put into evaluation in any selection process. Be it only as an elimination criterion. 
Now, since we are on the topic of showcasing individual caliber, let's do some math around the numbers here. 
An Introspect
1.4 million students!
And that's number only under the CBSE board. With the inclusion of the ICSE board and all other State boards, the figure only goes on to grow exponentially.  
My point here is, how do you as a student stand out in this mammoth crowd?
Under general circumstances, your answer would be your exam grades, but are they really?
According to statistics, in the year 2019, over 1.6 lakh students in India scored above 90% in their board exams.
Again, a big number.
The reality is, your board exam scores only serve as an elimination criterion in the admission processes of top colleges in the country. All owing to an increasing imbalance in the ratio of students to seats. 
(In fact in top colleges today, as good as 80 students compete for a single seat) 
The bottom line here is, even though only as an elimination criterion, exam scores did serve a purpose.
Chances are, you might have been appearing for the board exams this year, or you are going to appear in a year or two.
In all the above 3 cases, we're going to shed light on what you need to do apart from your academics to stand apart from your competition that range in millions.
(The urgency being almost equal for each of the cases, it is critical for the students who were supposed to appear for the board exams this year)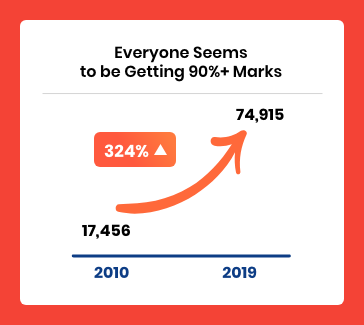 Indeed!
You have a considerable amount of time on your plate this summer. And I'm almost certain that by now you have started searching for the best online summer courses to pursue.
You are heading in the right direction!
Now, while you are on the hunt, here are the questions to keep in mind before you choose from the best online summer courses.
Is the course relevant to your aspirations?
What's the immediate benefit you are going to out of it?
4 out of 5 students generally choose an online summer course based on popularity only. As a result, all they have to show for it is a certificate that has little or no relevance(mostly the case) to their aspirations in the future.
Online Summer Courses- The Solution
As a high school student, either supposed to appear in the board exams this year or is going to in a year or two, your priorities lie in figuring out your ideal Course, College, and Country combination. These 3 aspects will decide the course of your career Everything else comes after this.
Where does your passion lie, what are your strengths and weaknesses upon which you can capitalize and work on respectively?
And accordingly, choose a course that serves your inclination.
The next and the most important aspect is shortlisting the best colleges where you can pursue your selected course. Once you have your list of best colleges ready, the next step is to prepare for the admissions. And, when I say admissions I mean creating a student profile for yourself that excels beyond just good grades.
The third aspect is to select the country. This aspect is ideally dependent on the College selection. The areas that you need to measure under this aspect are the cost of living, visa application services(in case of foreign Universities), etc.
Now, it might seem like you need to attend to the 3 priorities independently to make sure none overlaps the other.
Well, not necessarily. The Profile Building Program is actually the only thing you need. Let us understand in detail.
Univariety's Profile Building Program is a 50-day process, which has guided thousands of students to secure admissions in top universities worldwide.
The online summer course helps you in not just identifying the ideal college, but also following a personalized roadmap. The roadmap to creating a stand-out profile securing admissions in top Institutions. 
Profile Building Program includes the following processes.
Ideal Career Test– Assessments to discover yourself first. Strengths & Inclinations to choose your ideal career options.
Virtual Internship Programs- Get real-life professional experience by interning with companies of 18 different fields.
Course- Country-College-

Receive guidance from expert Counsellors on choosing the best course, country, and college for you.

A Personalized Roadmap-

 Learn everything you need to do at crucial points of time when it comes to extra-curricular activities.

Extended Counselling Services-

Get started on your roadmap with the suggested activities, under expert guidance throughout.
1. A Personalized Roadmap
Based on your interests, aspirations, and Course-Country-College Combination choices, ProMap will design a roadmap filled with experiences, programs, and courses that will ensure your profile stands out when you apply.
2. A College Ready CV
An improved CV at the end of the program, consisting of all the achievements relevant to your ideal college adds a solid weightage to your admission profile.
Learn More About The Profile Building Program Now
When it comes to Online Summer courses for high school students, the Profile Building Program should ideally be the first and foremost on the list.
Got a query? Write to us at guideme@univariety.com, and our expert Counsellor will reach out to you.
Published at Thu, 15 Apr 2021 07:25:54 +0000
Article source: https://blog.univariety.com/profile-building-program-online-summer-courses/