How To Get The Most Financial Aid For College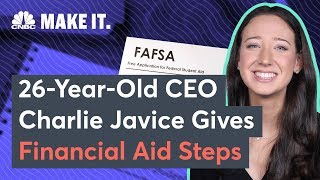 The key to reducing the cost of college is getting the most out of your financial aid offers, but applying for aid can be a daunting process. Charlie Javice, founder & CEO of FRANK., helps make the process as simple as possible.
» Subscribe to CNBC Make It.: http://cnb.cx/2kxl2rf
Step 1: Fill out the FAFSA
Every year, the U.S. Department of Education gives over $120 billion in federal grants, loans and work-study funds to more than 13 million college students, making it the largest provider of student financial aid in the country. In order to receive their share of these funds, students must complete the Free Application for Federal Student Aid (FAFSA).
Students who complete the FAFSA can qualify for up to $30,000 in aid. Nearly every student is eligible for some form of financial assistance, and it costs nothing to apply.
To complete the FAFSA, students will need a copy of their family's tax returns as well as a bank statement in order to illustrate how much your family earns and how much you are able to pay.
Step 2: Apply for state aid
The FAFSA allows students to receive federal student aid, but states also provide significant financial assistance to students, often in the form of grants and scholarships that do not need to be repaid.
If you have been living in the same state for more than five years, you may qualify for even more aid than expected, and students who do not qualify for federal financial aid may still qualify for aid from their state.
Each state has a different process for providing assistance to students. In order to apply for state financial aid, be sure to reach out to your state grant agency for more information.
Step 3: Send your information to schools
In order for schools to calculate how much your family is able to pay and how much aid the school should provide you, students need to send information about their financial backgrounds including their FAFSA and state aid packages.
According to Javice, 30 to 50 percent of students will be asked to provide additional information to schools. This can include participating in a FAFSA verification process and/or completing a College Scholarship Service (CSS) Profile.
Step 4: Review your aid packages
College acceptance season means that students will get big envelopes full of congratulations letters and financial aid package summaries. Each school's offer will differ and the amount of loans, grants, scholarships and work-study provided to the same study can vary greatly from school to school.
There are three main figures that students need to consider when assessing their financial aid packages.The first thing that students need to look for is the expected family contribution, this is the amount that families will be expected to pay out of pocket and it can vary from school to school. Next, students should calculate how much gift aid — funds that do not need to be repaid — each school is offering. Third, students should look at how much in loans each school expects a student to take out. In an ideal situation, students will want a low expected family contribution, a high level of gift aid and a low level of student debt included in their financial aid package summary.
Be sure to look carefully at the kinds of loans that a financial aid package offers. Federal subsidized loans often have the lowest rates and offer the most flexible repayment options.
Step 5: Appeal
"Once you have finally deciphered this aid award letter, you're going to want to appeal your aid," says Javice. "Everyone should appeal their aid package." She says that schools reserve roughly 20 percent of their funds for people who appeal their packages.
During the financial aid appeal process, students will want to provide a more detailed description of their backgrounds in order to supplement the information they have already provided. Students should mention if there has been a change in their family structure such as a death, deportation or a divorce and they should also mention if they have been impacted by any environmental events such as a drought, hurricane or flood.
During this appeal process, students should be sure to reiterate how excited and interested you are in attending that school, and stress that they are just doing their best to make their collegiate dreams a reality.
About CNBC Make It.: CNBC Make It. is a new section of CNBC dedicated to making you smarter about managing your business, career, and money.
Connect with CNBC Make It. Online
Get the latest updates: http://www.cnbc.com/make-it
Find CNBC Make It. on Facebook: http://cnb.cx/LikeCNBCMakeIt
Find CNBC Make It. on Twitter: http://cnb.cx/FollowCNBCMakeIt
Find CNBC Make It. on Instagram: http://bit.ly/InstagramCNBCMakeIt
Find CNBC Make It. on LinkedIn: https://cnb.cx/2OIdwqJ
#CNBC
#CNBCMakeIt
The U.S. Department of Education awards $120 billion to students every year—here are 5 ways to get the most financial aid | CNBC Make It.