How I Received Over $46,000 to go to College! | No Loans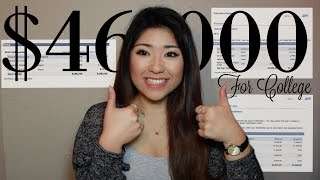 PLEASE READ!!
Hi you guys!
So I wanted to sit down and talk to you about how I financed college and I hope that this video helps some of you out to figure out your options for financing college. Now, I understand that when it comes to grants it is based on your family income which is DIFFERENT for everyone, but this is how my situation worked and it may be similar to yours. Also I am NOT trying to brag in any way about me getting money to go to college. I am just sharing how much I received so you guys know that I am not BSing and prove I am not lying. I take pride in honesty and I am a bio nerd so I need to see evidence if I am to believe anything. I hope this helps you guys out and thank you so much for watching!
Gabby
__________________________
C O N N E C T
Instagram:
@gabbyaikawa
https://www.instagram.com/gabbyaikawa/
Email
gabriella.aikawa@gmail.com
Facebook:
https://www.facebook.com/makeupwarrior1
Twitter:
@Makeupwarrior1
Tweets by makeupwarrior1
__________________________
W E B S I T E S
Scholarship Website I recommend scholly: http://home.myscholly.com/#scholly
FAFSA: https://fafsa.ed.gov
Cal Grant: http://www.csac.ca.gov/doc.asp?id=1177
Pell Grant: https://studentaid.ed.gov/sa/types/grants-scholarships/pell
WayUp (Amazing place to find high paying jobs while still in school): https://www.wayup.com/?refer=gabbyaiwaka
__________________________
D I S C L A I M E R
Not sponsored. I am not affiliated with any of the companies mentioned and the above links are not affiliate links.