Finding colleges offering big scholarships
It's late in the college admission season, but schools are still giving out college scholarships to those who know where to look.
The pandemic caused many colleges to provide better scholarships than they would have liked.
And actually, some schools, long before the pandemic hit, were giving out large merit scholarships.
I wrote about one aspect of this phenomenon earlier this month:
One senior's scholarships and wait list results so far…

Today I am sharing award letter results that a teenager in Los Angeles received this year from Midwestern liberal arts colleges along with the colleges that waitlisted her.
Emily applied to 14 private colleges and was rejected outright from just two of them – Colorado College and Haverford College.
Eight schools waitlisted the teenager and, combined with Colorado and Haverford colleges, this group enjoyed the highest rankings of institutions on her list.
Here they are:
Pitzer College
Occidental College
Smith College
Oberlin College
Bryn Mawr College
Scripps College
Brandeis University
Hamilton College
Wait list phenomenon
Being waitlisted by so many schools is not unusual since wait lists have increased this year among private and state institutions. We haven't seen a raft of wait list numbers yet since most schools will probably wait until May 1 or later, but they will certainly reflect a heavier reliance on them.
On the West Coast, for instance, University of California, Santa Barbara has increased its wait list from 10,000 to 14,000. and San Diego State put 6,000 applicants on its wait list which is a 2,000 jump from last year. On the opposite coast, Colby College in Maine boosted its wait list by 30%.
Many schools are relying more heavily on wait lists this admission cycle because of COVID-19. The pandemic, which led to nearly all schools becoming test-optional at least temporarily, made it far more difficult for colleges to rely on their admission modeling that guides colleges on their acceptance decisions.
"Everybody is trying to figure out how things will shake up in the next few weeks," David Greene, president of Colby College said in a Boston Globe article earlier this month. "There's enough of a question mark here that a bigger cushion on the wait list would be wise. If you reject a student, there's no going back."
Colleges that provided large scholarships
In Emily's case, what I find most valuable is how large the awards were from the Midwestern liberal arts colleges that want her in their freshmen class.
The biggest award was from Beloit College in Wisconsin, which happens to be my son's alma mater.
Emily's merit scholarship was $35,000, which is a huge award compared to what most private and public colleges and universities across the country award.
It's been Beloit's practice, however, to offer average merit scholarships worth at least $30,000 since the 2017-2018 school year. Beloit kicked in another $1,000 for having an alum refer her to the school.
The teenager also got a $10,600 grant on top of her merit award that brought her award to $45,000! When you subtract that figure from Beloit's tuition and room/board, it would cost the family just $18,000!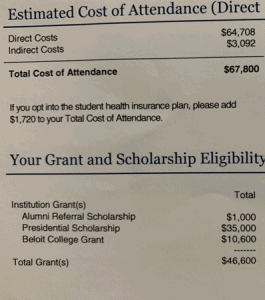 Merit scholarships from colleges
Three other Midwestern schools also gave Emily large merit scholarships:
Wheaton College (Wheaton, IL). $37,000
Cornell College (Mount Vernon, IA) $34,000
Knox College (Galesburg, IL) $30,000
Emily's favorite school is Beloit, but due to the pandemic she hasn't been able to see it yet.
Her mom is nervous about the prospects of her daughter attending school so far away. With tuition/room/board of just $18,000 after the sizable discount, she could fly her child to LAX from O'Hare Airport first class plenty of times and still come out ahead financially.
Where better scholarship deals are
It's not a fluke that Emily received large merit awards from Midwestern colleges. These are among the schools that have to work harder to attract students because they are small and are not located in popular urban areas. They also don't have the name ID that is enjoyed by research universities, such as Northwestern and University of Chicago, which are both just a two-hour drive from Beloit.
Northwestern and University of Chicago and their research university peers have great name recognition, which means they attract many extremely wealthy students to their campuses. Because of this reality, institutions like these Illinois institutions don't have to provide merit scholarships or can offer extremely paltry ones.
Most private colleges in such places as the Midwest, South, interior West and parts of New England don't enjoy the luxury of requiring a large percentage of their students to pay full price. They must offer merit scholarships (actually tuition discounts, but scholarships sound better to families!) to the vast majority of accepted applicants and in some case 100% of these students.
Here's an example:
According to the latest federal statistics, two percent of Beloit freshmen paid full price. At the University of Chicago, 49% of student paid full price.
Financial aid and colleges
So far, I've talked about how colleges that need to recruit harder, give out merit awards to most comers, but another issue to consider is need-based financial aid.
Highly rejective colleges are credited as a group for giving the best need-based financial aid packages. The gold standard is meeting 100% of a family's financial need as measured by the financial formula. This isn't always the case, however, because these schools often use home equity that can ruin aid eligibility for many students. Unlike the highly rejective colleges, most colleges and universities don't use home equity when determining aid eligibility.
What is often overlooked by families is that some of the colleges that need to try harder give awfully good aid even though they don't have monster endowments and aren't magnets for the ultra wealthy paying full fare.
Here are six Midwestern colleges that meet at least 94% of financial need  and they aren't the only ones out there!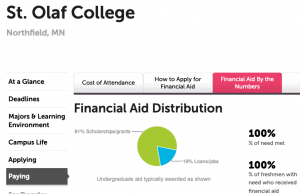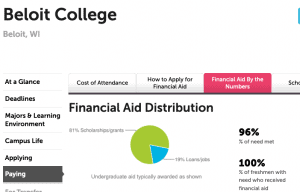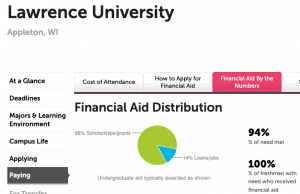 Finding financial aid statistics for any college
You can check out these financial aid stats and many more by…
 Typing in the name of any school on the College Board's website.
Click on the school's "Paying" link.
Click on the "Financial Aid by the Numbers" hyperlink.
What to do with this information
If your child is a senior and isn't happy with the acceptances he or she got – or you are stressing about the price tag – consider applying to more schools.
Many colleges and universities – actually most of them – are still eagerly looking for freshmen and transfer students for the fall. It's easy to identify the ones that are still hunting for applicants. If a college isn't on the national radar, there is a decent chance it would want to hear from your high school senior.
You don't have to worry if the application deadline for this type of colleges has already passed. Plenty of colleges don't want to broadcast publicly that they still need students.
And if your child isn't a senior?
I've repeatedly emphasized over the years that if you want to find wonderful schools and not pay full price, families should throw a wider net and resist the temptation to fish exclusively in a small pond that only contains highly rejective schools.
Don't limit the search to research universities (highly rejective or not). Also take a look at colleges (they are very different from universities) and master's level universities.
And good luck!
Learn more
The best way to become a smart college shopper is to enroll in my online course, The College Cost Lab that comes with a lifetime membership.
You will learn how to make better college choices, avoid disastrous college mistakes (one-third of full-time college students end up transferring somewhere else!) and potentially save tens of thousands of dollars on college costs or much more.
Published at Wed, 21 Apr 2021 20:56:16 +0000
Article source: https://www.thecollegesolution.com/finding-colleges-offering-big-scholarships/