Financial Aid Secrets | "Wish I'd Known" Series | The Princeton Review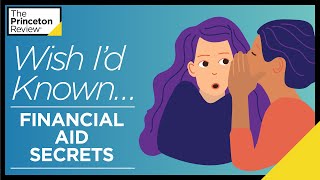 Applying for financial aid can be daunting. In fact, a quarter of college-bound high school students don't fill out the FAFSA at all—and an estimated 1 billion dollars in aid, grants, and scholarships goes unclaimed each year. If college is in your future, these 6 tips can help make your higher education much more affordable.
SUBSCRIBE to our channel for the latest updates about admissions and exams—plus frequent free test-prep livestreams: www.youtube.com/c/ThePrincetonReview
Prepping for standardized tests like the SAT? Check out our score guarantee options: https://www.princetonreview.com/college/sat-honors-course?exid=44290457
For expert info about how to find, gain admission to, and pay for your dream college, watch: https://www.youtube.com/playlist?list=PL-NpEXrBdTqHr8FUdKC07oR0KP3D10-y3
Visit us online: https://www.princetonreview.com?exid=44290457
For more expert tips, winning strategies, and practice problems, follow us on social media! (Don't be bashful about reaching out with your own questions—we'll try to answer them in one of our upcoming videos!)
https://www.instagram.com/theprincetonreview/
Tweets by ThePrincetonRev
https://www.linkedin.com/company/157348
https://www.facebook.com/ThePrincetonReviewSAT
https://www.facebook.com/ThePrincetonReviewMed
https://www.facebook.com/ThePrincetonReviewGrad
#college #financialaid #fafsa #scholarship #collegeapplication
The Princeton Review is a leading tutoring, test prep, and college admission services company. Every year, we help millions of college- and graduate school–bound students achieve their education and career goals through online and in-person courses delivered by a network of more than 4,000 teachers and tutors, online resources, and our 150+ print and digital books published by Penguin Random House.
The Princeton Review is not affiliated with Princeton University.