COLLEGE APPLICATION 101 (advice, tips, what I wish I knew)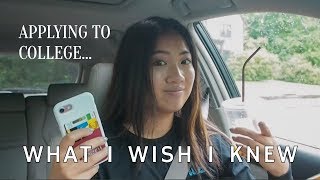 Ever since I started this channel, I have received tons and TONS of questions regarding this subject, so I decided to answer as many as I could at the same time by making this video for you guys!!
BIG DISCLAIMER: I'm not a college counselor nor am I an admissions officer. These are mostly things that I have heard from professionals involved in the college process, or things that I have researched on my own. Thanks for NOT coming for me!!
Here are timestamps for the different topics covered in the video:
2:47 How to navigate high school for middle schoolers/early high schoolers
4:11 What to do about extracurriculars
6:41 SAT/ACT study tips
8:55 Advice for the Common app
12:24 Supplemental essays (check out collegevine!!)
14:19 What to do AFTER you hit submit
14:38 The most important piece of advice BY FAR (LISTEN TO THIS PLS)
Hope this helps you guys and good luck!
ig: https://www.instagram.com/ninawang4/