Federal Student Loans: What Happens If You Don't Pay? [POLICYbrief]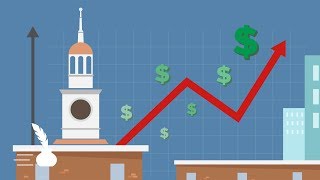 Since 1958, the United States federal government has offered loans to help college students pay for their education. Over the past decade, however, the default rate on these loans has risen sharply, with over 25% of former students failing to repay their loans.
What happens when federal student loans aren't repaid? Student loan lawyer Adam Minsky and Jason Delisle of the American Enterprise Institute explore the troubling landscape of federal student loan repayment.
As always, the Federalist Society takes no particular legal or public policy positions. All opinions expressed are those of the speakers.
Learn more about Jason Delisle: https://www.aei.org/scholar/jason-delisle/
Learn more about Adam Minsky: https://minsky-law.com/about/
Differing Views:
Brookings: The looming student loan default crisis is worse than we thought
The looming student loan default crisis is worse than we thought
The Washington Post: The number of people defaulting on federal student loans is climbing
https://www.washingtonpost.com/news/grade-point/wp/2017/09/28/the-number-of-people-defaulting-on-federal-student-loans-is-climbing/?noredirect=on&utm_term=.d59e794832ea
CNBC: Trump administration may make it easier to wipe out student debt in bankruptcy
https://www.cnbc.com/2018/02/21/trump-administration-may-make-it-easier-to-wipe-out-student-debt-in-bankruptcy.html
The Hill: Is student loan debt the next financial crisis?
http://thehill.com/blogs/congress-blog/education/381322-is-student-loan-debt-the-next-financial-crisis
NPR: Is The Student Loan Crisis Fact Or Fiction?
https://www.npr.org/sections/ed/2016/07/28/487032643/is-the-student-loan-crisis-fact-or-fiction
The American Prospect: The Argument for Tuition-Free College
http://prospect.org/article/argument-tuition-free-college