Class of 2025 – The Big Squeeze
Another year for the record books, as top colleges and universities see their overall application volumes soar in this most unprecedented cycle. Among the eye-popping statistics we've seen, NYU tops 100,000 applications, Harvard's pool grows by 57 percent, and Colgate receives double the number of applications as compared to last year.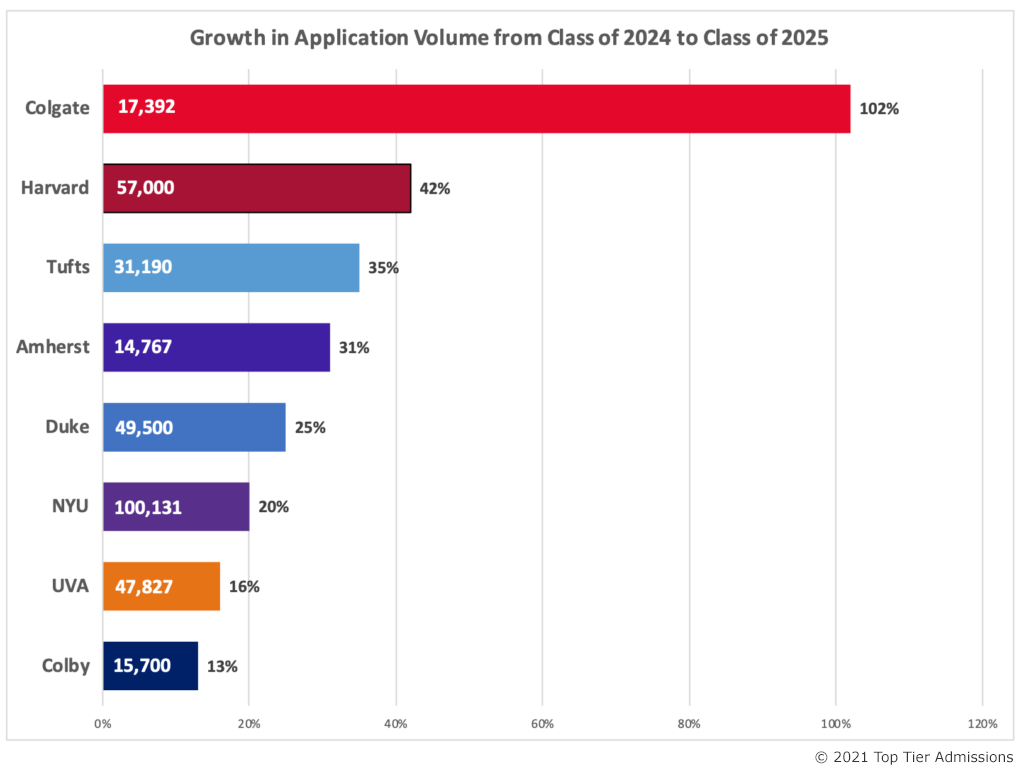 TEST-OPTIONAL = DRIVING FORCE
This year's across-the-board test-optional admissions policies at top colleges are driving the increased volume, but so is nervousness about getting in. After record early admission application growth in the fall that saw greater numbers of students deferred or denied than in previous years (80 percent of Harvard's early applicants were deferred, for instance), students naturally sought to maximize their regular decision admissions prospects by casting as wide a net as possible. Although we haven't seen any data from the Common Application on the average number of applications submitted per student, we'd wager that its higher than last year given the heightened uncertainty.
So now what happens? Will anyone get in? Is it even physically possible to read all those applications in the time allotted?
Admissions staffs will surely be working overtime, hiring additional outside readers to get through the volume, and looking for systematic ways to speed-read their way through their applicant pools to figure out who's a viable candidate and who's not. Some have even pushed back their notification dates. We know so far that Harvard, Penn, and Princeton will release decisions in early April, giving themselves one additional week to complete the process.
EYE-CATCHING DATA
Most likely, as admissions readers first glance through files, they'll be looking for the following:
Markers of academic achievement: grades, rigor of program, and any standardized testing that students share (SAT, ACT, subject tests, and APs)
High-level academic awards and recognition
Evidence of impact and distinction beyond the classroom
Hooks – legacies, underrepresented students, first generation to college, low income (most recruited athletes are admitted in the early process)
Demonstrated interest – especially at colleges where yield is more variable
If you have them, you advance. If not, you don't.
It was interesting to note that despite its test-optional admissions policy this year, Georgetown released data on its early admissions cycle noting that only 7.34 percent of applicants who did not submit standardized test scores were actually admitted. They also made note of the average test scores of those who were admitted—middle 50th percentile on the ACT between 33-35 and for SATs, 720-750 (reading) and 730-90 (math)—continuing to reinforce the importance that Georgetown places on strong scores.
DATA IS KING
Another way that admissions officers will look to make sense of these large applicant pools is to review students in their school groups. If 20 students applied to Colby from a single high school or 100 students applied to NYU from the same school, it's a sure bet that applicant data will be sorted in descending GPA order (remember, applicants were asked to self-report GPA on their Common Application). Readers will focus attention on the students at the top of the pack in each high school – those students whom they see as most likely to be admitted — and only have time for a cursory peek at the others.
No doubt about it. To make sense of this record-breaking volume of applicants, colleges and universities will have to be more objective and data-driven in their decision making. You simply can't hire enough people to read all those applications and schedule enough hours of committee meetings on Zoom to talk about each one.
With artificial intelligence finishing our sentences, detecting tumors more accurately than doctors, screening resumes at large corporations, populating our playlists, and driving our cars, can AI-driven changes to the selection process at top schools be far behind?
—There's nothing artificial about Top Tier's intelligence as we strive to make the admissions process less confusing for families and help students create an action-based roadmap to college success. Learn more about our work here.
Published at Wed, 27 Jan 2021 17:39:39 +0000