Applying for a Master's Degree // Advice, Rejection, Personal Statements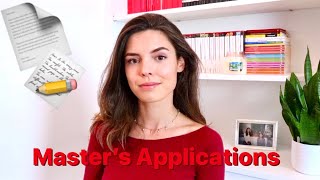 hey all ?in today's vid we chat through the process of applying to a Master's degree in the UK (in other words, applying to grad school), all the stuff you need and my own experiences. I initially wanted to apply to UCL, Imperial and Cambridge for a Msc/MPhil in Management, but upon my Cambridge rejection (that was fun) did a total 180 and instead applied to Film School.
Doing a master's degree is highly subject to your personal career goals, there is right or wrong answer. Luckily I can at least help you prep for the process, the personal statements, applications, interviews and just getting started.
GOOD LUCK!
The Blog Post: https://sarcasticfish.com/2019/10/18/graduate-applications/
❤️SUBSCRIBE: https://www.youtube.com/user/EmmaTheSarcasticFish
Films: https://www.youtube.com/channel/UCPVT84Lqn5fiB5eUNeext0A
?SHOP: https://www.redbubble.com/people/sarcastic-fish
?RELATED PLAYLISTS
WEEKLY VLOG: https://www.youtube.com/playlist?list=PLZ85kKvSCAOfMUMJv9KTMlDxdW6JW0atf
SEASON 3: https://www.youtube.com/playlist?list=PLZ85kKvSCAOfbbKkb8HKXBnafSbRcByH_
?RELATED VIDS
?Other Socials!
GoodReads: https://www.goodreads.com/user/show/84099251-emma-angeline
Twitter: https://twitter.com/Sarcastic_Fish
Insta Personal: http://instagram.com/Sarcastic_Fish
Insta Professional: http://instagram.com/London_Fish
?Outro Music:
Marxist Arrow by Twin Musicom is licensed under a Creative Commons Attribution licence (https://creativecommons.org/licenses/by/4.0/)
Artist: http://www.twinmusicom.org/
❤️???????