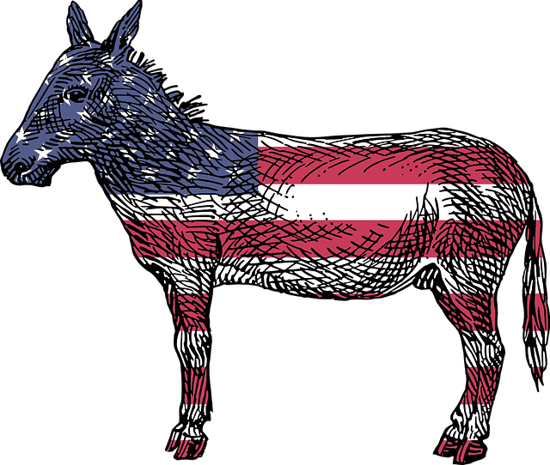 If you're politically active, you may want to go to a college where the students, faculty, and administration share your values. You'll be more likely to find student groups that are aligned with your interests and beliefs, and you'll probably have a more enjoyable college experience.
In this article, we'll give you a list of over 70 of the most liberal colleges in the United States. Furthermore, we'll detail the traits of liberal colleges, explain possible advantages and disadvantages of attending liberal colleges, and advise you how to find liberal colleges that could be a good fit for you.
Traits of the Most Liberal Colleges
For the purposes of this article, we're defining "liberal colleges" as those that are very politically left-wing. They're more accepting of different sexual orientations and gender identities, and students tend to favor liberal positions like transitioning to universal healthcare, outlawing private prisons, and raising the minimum wage. The Princeton Review has ranked the top 25 colleges with the most liberal students, and we'll use these schools as examples when outlining the traits of liberal schools.
The most liberal colleges tend to be private liberal arts colleges. Very liberal students are often drawn to small liberal arts colleges because these schools offer a more progressive education. For example, at Reed College, grades are recorded but are de-emphasized and not distributed to students. Additionally, professors serve more as mediators in class discussions as opposed to being lecturers.
In other words, very liberal colleges tend to offer unique learning environments and experiences that you probably won't find at more moderate or conservative schools.
Furthermore, the most liberal colleges usually reflect the political leanings of their locations. Many of the most liberal colleges are located on the west coast and in the Northeast, both known for being extremely liberal places. That means that many of the schools on this list are clustered in similar geographic regions!
Possible Advantages of Going to a Liberal College
If you're very liberal, then you'll probably be happier and more comfortable around like-minded people. You're more likely to make friends who share your political and social views. Professors of very liberal colleges are also likely to be liberal-minded, which means you'll be receiving an education that aligns with your values and beliefs.
Liberal colleges are often very tolerant of interpersonal differences and are more culturally sensitive. LGBTQ+ students and students from underrepresented backgrounds may feel more supported at liberal colleges, especially since the school is more likely to offer support services and organizations for these students.
Also, very liberal colleges tend to be less strict and structured. Many liberal colleges pride themselves on being less focused on grades and big lecture classes and more focused on collaboration and self-actualization. They often have a much more permissive culture, and they tend to be less likely to harshly punish students who engage in "extracurricular" activities that are stereotypically associated with college life.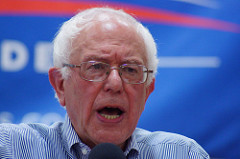 You'll find more Bernie Sanders fans at liberal colleges.
(Marc Nozell/Flickr)
Possible Disadvantages of Liberal Colleges
If you're very liberal, you may benefit from being exposed to different viewpoints. Having your beliefs challenged and being around diverse opinions can help you learn and grow. If you're very liberal and attend a liberal college, you may just be surrounding yourself with an "echo chamber" of like-minded people who won't challenge your ideas.
While liberal colleges are tolerant of people from different backgrounds, they are less tolerant of conservative viewpoints. Many of the students at the most liberal colleges view conservatives as closed-minded or ignorant. If you want to be in an environment that welcomes diverse viewpoints, you may not feel completely comfortable at the most liberal colleges. Furthermore, students at very liberal colleges are becoming notorious for taking action against speech they consider insensitive or offensive. If you're more moderate and/or aren't comfortable with public activism, these schools might not be right for you.
Because most colleges tend to lean liberal, and many college faculty members identify as liberal, you don't have to attend the most liberal colleges to be around people who share your core beliefs. The only colleges that have a reputation for being conservative are religiously-affiliated schools, the military service academies, and public colleges in the most conservative states.
Finally, the less structured environment at many liberal colleges may not be beneficial to you. Some students need more structure and discipline to excel. Also, the lack of emphasis on grades and a traditional curriculum at some of the most liberal colleges may not suit your educational needs and could negatively impact some of your future job or graduate school opportunities.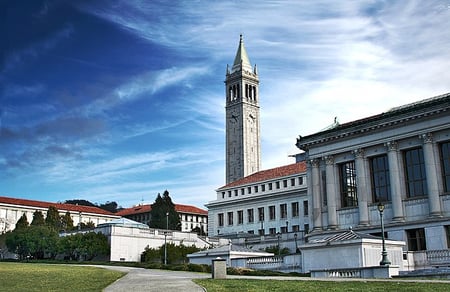 The University of California at Berkeley (pictured above) is a state school that's also known for being very liberal.
(brainchildvn / Wikimedia)
The 70 Most Liberal Colleges
We use Niche's ranking of the most liberal colleges in the US. Niche is a website that provides reviews, rankings, and statistics about neighborhoods and schools. It provides many different college ranking lists, from the overall best colleges to the top party schools to the most liberal colleges.
The Niche rankings of the most liberal colleges are based on a political poll of 50,000 students from 747 colleges. A full 80% of the rankings is based on student survey responses regarding the students' personal political leanings. The remaining 20% is based on student survey responses regarding the political leanings of other students at the college.
Below are the top 70 most liberal colleges according to Niche, with #1 being the most liberal. For each school we included its location and acceptance rate. Most of these colleges are private colleges and many are small liberal arts colleges. Some of the public universities that made the top 70 are New York University, San Jose State University, and the University of Washington.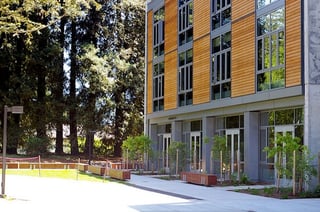 UC Santa Cruz
(Casey Marshall/Flickr)
| | | |
| --- | --- | --- |
| School | Location | Acceptance Rate |
| | Washington, DC | 39% |
| | Santa Cruz, CA | 65% |
| | San Francisco, CA | 100% |
| | Burlington, VT | 71% |
| | Chicago, IL | 61% |
| | San Jose, CA | 67% |
| | Boston, MA | 20% |
| | Seattle, WA | 56% |
| | Riverside, CA | 66% |
| | New York, NY | 21% |
| | Eugene, OR | 84% |
| | Stony Brook, NY | 49% |
| | Garden City, NY | 75% |
| | West Chester, PA | 86% |
| | Hayward, CA | 73% |
| | Evanston, IL | 9% |
| | Albany, NY | 57% |
| | Mahwah, NJ | 67% |
| | New Britain, CT | 65% |
| | Rochester, NY | 68% |
| | New York, NY | 40% |
| | New York, NY | 83% |
| | Brooklyn, NY | 79% |
| | Houston, TX | 93% |
| | Boston, MA | 20% |
| | Clarksville, AR | 56% |
| | Portland, OR | 95% |
| | Cleveland, OH | 94% |
| | Princess Anne, MD | 62% |
| | Beloit, WI | 58% |
| | Tuskegee, AL | 61% |
| | Washington, DC | 39% |
| | Fayetteville, NC | 79% |
| | South Hadley, MA | 52% |
| | Mansfield, PA | 96% |
| | Washington, DC | 43% |
| | Vestal, NY | 43% |
| | Minneapolis, MN | 73% |
| | Hampton, VA | 36% |
| | Granville, OH | 28% |
| | Berkeley, CA | 17% |
| | Salem, OR | 80% |
| | Cleveland, OH | 67% |
| | New York, NY | 37% |
| | Orangeburg, SC | 65% |
| | Los Angeles, CA | 89% |
| | Los Angeles, CA | 16% |
| | Los Angeles, CA | 76% |
| | Greensboro, NC | 88% |
| | San Francisco, CA | 70% |
| | Ann Arbor, MI | 26% |
| | Nashville, TN | 100% |
| | Miami, FL | 100% |
| | Thousand Oaks, CA | 74% |
| | Baltimore, MD | 11% |
| | West Haven, CT | 91% |
| | New Orleans, LA | 65% |
| | Bronxville, NY | 55% |
| | Philadelphia, PA | 71% |
| | Portland, OR | 42% |
| | Smithfield, RI | 76% |
| | Syracuse, NY | 69% |
| | Oakland, CA | 91% |
| | San Francisco, CA | 84% |
| | New London, CT | 38% |
| | Atlanta, GA | 59% |
| | San Bernadino, CA | 78% |
| | Bennington, VT | 60% |
| | Tallahassee, FL | 33% |
| | Boston, MA | 80% |
| | Fullerton, CA | 68% |
| | Poughkeepsie, NY | 24% |
| | Los Angeles, CA | 37% |
| | Medford, MA | 15% |
| | Boston, MA | 15% |
| | Queens, NY | 49% |
| | New York, NY | 12% |
| | Atlanta, GA | 55% |
| | Moorhead, MN | 68% |
| | Colorado Springs, CO | 14% |
| | Arlington, VA | 81% |
| | Washington, DC | 14% |
| | Waterbury, CT | 100% |
| | Richmond, VA | 87% |
| | Chicago, IL | 68% |
| | Harrisburg, PA | 100% |
| | Wooster, OH | 55% |
| | Amherst, MA | 64% |
| | Montclair, NJ | 76% |
| | DeKalb, IL | 48% |
| | Iowa City, IA | 83% |
| | Grambier, OH | 34% |
| | New Orleans, LA | 75% |
| | Rochester, NY | 64% |
| | Brooklyn, NY | 56% |
| | Saint Joseph, MN | 80% |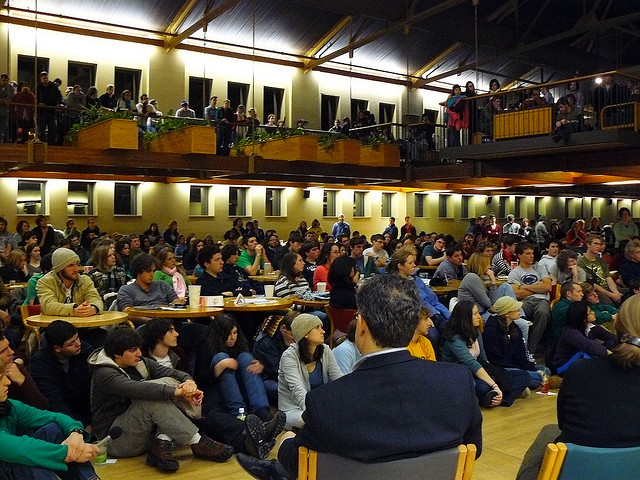 Rally of the "Carleton College Dems"
(cursedthing/Flickr)
Student Reviews of Liberal Colleges
Niche also offers over 500,000 student reviews of colleges. Here are some comments written by students about some of the most liberal colleges in the United States. I tried to include positive and negative comments about each school related to its very liberal environment.
UC Santa Cruz
There are some classes that really drill in the necessary skills needed for you future career. Other classes show you different aspects of other studies, which may be great for finding the perfect major. Overall, I would say that community is that best part of this college. It has taught me to be more open-minded and to always question the everything. (Source)
Hippies everywhere! Public service announcement: if you need to be on psychedelics or smoke weed to have a better appreciation for the nature around you, you're doing something wrong! Nature is beautiful sober. (Source)
Grinnell College
Grinnell is extremely accepting of people from all walks of life. We have tons of programs and groups on campus to accommodate all students, such as Concerned Black Students, Cultural Diversity Panel, Spectrum, and Queer Students of Color. (Source)
It was a great experience, but it requires that you are self-motivated. I thought I was at first and it was a hard wake-up call. You will be beaten, but you will come out better for it. (Source)
Smith College
Northampton is a perfect college town, very liberal, artsy, hipster, and worldly. So is the food. So many different types of restaurant options are available. (Source)
Smith trusts its students, and it's also a school very concerned with social justice, so even seemingly trivial violations are taken very seriously and reported. (Source)
American University
Great educational environment and very academic focused, creating a prestigious environment while also maintaining a liberal approach. LGBTQ+ friendly. Beautiful campus and surrounding area. Racial issues tend to be a reoccurring instance with AU, as they lack the proper representation within staff in order to understand their POC students. Hate speech and crime towards students has little to no consequences but as a Black student, I still feel safe and connected to people similar to me. Financial aid isn't the best. (Source)
Like, you're in a city where weed is decriminalized. It's pretty popular around here, and even if you don't do drugs, you definitely know people who do. (Source)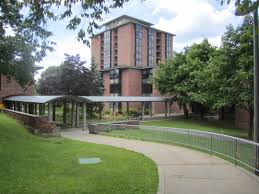 Skidmore College
(Peter Flass / Wikimedia)
How Should You Use This List of the Most Liberal Colleges?
If you want to go to a very liberal college, you should research the colleges on the list that interest you to determine if they're schools you should apply to. There are many factors to consider to determine if a college is a good fit for you including location, selectivity, support services, and the majors offered.
Look at the school's website, and use guidebooks, college finders, search websites, and other ranking lists to help you in the college selection process. If possible, consult with teachers, counselors, parents, current students, and alumni.
What Should You Do If You Want to Attend a Liberal College, but a School You're Considering Isn't on the List?
Just because a school you're considering didn't make the list doesn't necessarily mean that it's not liberal. As I mentioned previously, most colleges tend to be more liberal than conservative.
If you want to go to a college with a liberal atmosphere, look at the school's website to see if there are student groups that are aligned with your political and social views. There may be student groups for Democrats, feminists, or LGBTQ+ students. Similarly, there may be student groups that advocate for more liberal organizations or causes like Planned Parenthood, NORML (National Organization for the Reform of Marijuana Laws), climate change, or healthcare reform.
Also, you can consult other sources that evaluate or grade how liberal a college is. On the Niche profile for each college, under "diversity" for each school's guide, there is a category called "political activity" that describes the political breakdown of students on campus. For instance, even though Harvard is often considered a liberal school, 63% of students identify as Republican, Independent, or "Uninterested In Politics." 
As you can see, Harvard's student body is diverse politically, too! Getting a more holistic view of a university and its political environment can help you make a more informed decision about where you ultimately attend.
If you're positive that you want to go to a very liberal college, then there are a few other ways you can narrow your search. If you go to the College Stats college finder, you can select that you're "only interested in schools with a very liberal climate" and search for colleges that fit that criteria. Furthermore, there are 20 other search categories to help you narrow your college search.
Finally, remember that the political leaning of a college is often reflective of the city or town where the college is located. Colleges in the Northeast and on the west coast tend to be more liberal, and colleges in the South tend to be more conservative. You can determine if a specific city or town is liberal by looking up the candidates it supported in the last election and its views on various political and social issues.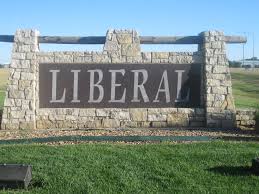 From the city of Liberal, Kansas, which is ironically more conservative
(Billy Hathorn / Wikimedia)
What's Next?
Since liberal arts colleges are predominantly liberal, you may be interested in checking out our rankings of the 28 best liberal arts colleges in the country.
Also, if you want to go to a selective college, you should take a look at the colleges with the highest SAT scores.
Finally, because college tuition prices continue to rise and you may be worried about how you're going to pay for college, I recommend you read this post on how much college really costs.
Want to improve your SAT score by 160 points or your ACT score by 4 points? We've written a guide for each test about the top 5 strategies you must be using to have a shot at improving your score. Download it for free now:
source: blog.prepscholar.com