The Best Universities In America | Top 10 US College Rankings 2021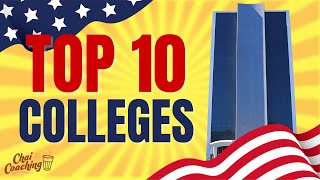 Learn all about the top 10 ranked colleges in America. Are these best ranking universities ones you are considering to study at? This video breaks down the college tuition, student population, best degrees, top courses, and other important information for shortlisting college admissions.
Foreign Admits Initiatives:
Dream Big Scholarship Registration – https://bit.ly/Rob_fa
Free Ivy League Counseling Call – https://bit.ly/Rob_ivy
Video Time Stamps:
00:00 Intro
0:32 Factors & topics for rankings
1:36 10th ranked college in USA
2:59 9th ranked college in USA
4:28 8th ranked college in USA
5:36 7th ranked college in USA
6:37 6th ranked college in USA
7:50 5th ranked college in USA
11:02 4th ranked college in USA
12:21 3rd ranked college in USA
13:30 2nd ranked college in USA
14:57 1st ranked college in USA
Learn all about the top 10 ranked colleges in America. Are these best ranking universities ones you are considering to study at? This video breaks down the college tuition, student population, best degrees, top courses, and other important information for shortlisting college admissions.
WSJ article: https://www.wsj.com/articles/best-colleges-2021-explore-the-full-wsj-the-college-ranking-list-11600383830
Newsletter Opt In:
https://crafty-knitter-4973.ck.page/514a2879f9
Subscribe Chai & Coaching Channel:
https://www.youtube.com/chaicoaching
Instagram:
https://www.instagram.com/rob4chai/
LinkedIn:
https://www.linkedin.com/in/robertadamschai/
Check Out New Chai & Coaching Merchandise:
https://teespring.com/stores/chai-and-coaching-store
Please Subscribe, Like, & Share!
This video is sponsored by Foreign Admits.
Helping International Students Succeed In America
Building Bridges & Fostering Community Cross-Culturally
Thanks for watching!
#best colleges #topuniversities #chaiandcoaching
Chai & Coaching is for the students and by the students. Chai & Coaching wants to help international students studying in America to be as successful as possible. F1 students have lots of struggles studying far from home, so we want to provide resources and helping them find community while pursuing their undergrad, masters, or PhD in America. Living in a different culture can be hard, so we want to provide tips to help you understand American culture, and improve your cross-cultural communication. So whether you are from China, India, Korea, Saudi Arabia, Canada, Vietnam, Taiwan, Japan, Mexico, Brazil, Iran, Nigeria, Nepal, the UK, Turkey, Russia, Kuwait, Germany, France, Indonesia, Venezuela, Malaysia, Colombia, Pakistan, Bangladesh, Spain, or any other place, you are most welcome to come and study in America! Let's work together to help one another out. So grab some chai, coffee, or something else tasty, and let's learn together.