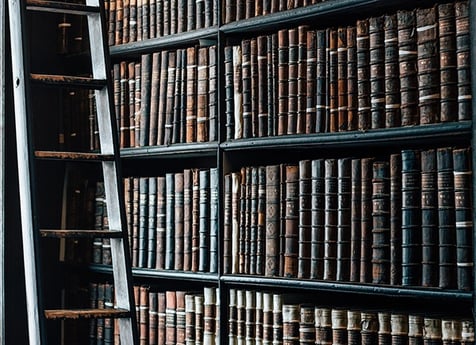 It's hard to know where to begin when studying for AP World History. Though the exam mainly covers broad themes and trends, there's so much information to sift through that it can be easy to get lost in the weeds. Review books can help guide your study plan, ensure that you revisit the most important concepts, and teach you critical test-taking strategies.
In this article, we'll go through the best books to use for studying AP World History and how you can choose one that will give you the tools you need to ace this test.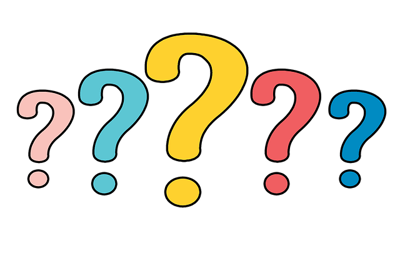 What's in This Guide to the Best AP World History Books?
This is a list of the most helpful review books you can use to study for the AP World History exam and other assessments in class throughout the year. These books are meant to be used in conjunction with a high-quality textbook, so most of them are not stand-alone resources for self-studying; however, some are more thorough than others.
For world history, review books can make the choice to either focus exclusively on the content you need to know for the AP exam (which is what most of them do), or go more in depth and market themselves as in-class study aids as well.
We'll list the books that are the most reliable resources for long-term and short-term studying as well as a couple you might consider buying as supplemental resources. We'll also give you specific pros and cons for each AP World History review book so you can make a more informed decision about which one will best fit your needs.
Note that with the big content changes to the AP World History test in 2020, it's important that you find a book that's been updated as well. Unless otherwise noted, all these prep books have been updated to align with the new focus and content of the AP World History: Modern exam.
Now, let's get to the books! We've divided the top AP World History review books into the following categories:
Best Overall AP World History Review Book
The Princeton Review's Cracking the AP World History: Modern Exam, 2020 Premium Edition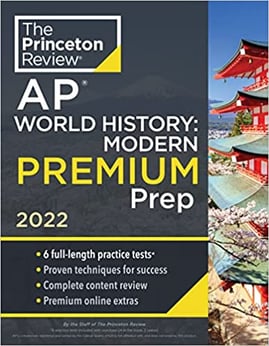 Price: About $16.50
Pros
Focuses on larger trends and themes rather than small, superfluous details; tells you about only the essential stuff you need to know for the test
Easy to follow and written in a conversational style
Six full-length AP practice tests, with analytical multiple-choice questions that closely model official materials
Good tips for designing your study plan and for taking the AP World History test
Cons
Not quite detailed enough to use for self-studying
While updated for the new exam format, doesn't contain all course updates introduced in summer 2020 (most of these are minor, though, and have to do with learning objectives)
Summary
We consider this book to be the best overall resource for AP World History because you can make it work for you no matter what your study timeline or score goals are. It doesn't go overboard in the information it provides, but it also isn't so sparse that it's only useful for a quick review of the test.
The practice tests included are really good quality, with questions that accurately reflect the difficulty level of the AP exam. Its engaging writing style combined with a focus on key themes and overall chronology of events make this a great resource for almost any student.
Best AP World History Book for Short-Term Review
REA's AP World History: Modern Crash Course, Revised 3rd Edition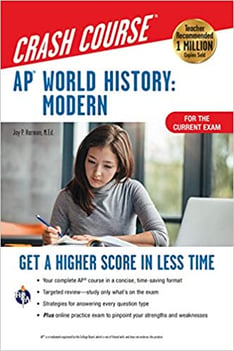 Price: About $13
Pros
Really good for a quick content review in the weeks before the test
Contains only the information you need to know for the exam
Chapters are written in easy-to-digest outline form
Cons
Has just one full-length practice test, which is only available online (not in the book itself)
Can't be used to review for in-class tests and assignments or self-study without having to supplement with a textbook
Summary
This book is called "crash course" for a reason: it's made for those of you who've waited until the last minute to start studying. This newest edition covers everything you'll need to know for the AP World History test and does not mess around with any extra unnecessary details.
Many students find the Crash Course series—including previous versions of the AP World History guide—to be helpful refreshers that are useful even as late as a week before the AP exam.
Best AP World History Book for Long-Term Review
Barron's AP World History: Modern Premium, 10th Edition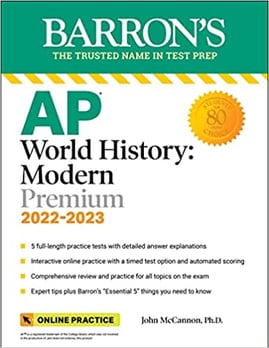 Price: About $15
Pros
Good tips for free-response questions (and sample essays!)
Very thorough in its coverage of information
Connects all the themes of the course to the events in each historical era
Five full-length exams (two in the book, three online) with answer explanations
Cons
Too much material to use for short-term AP review; it's more textbook than review book
Overall dry, academic writing style that might make it hard to engage with the material
No shorter practice tests or quizzes at the end of each section for review
Some practice questions might be more challenging than exam questions
Summary
As is the norm with Barron's books, this recently released AP World History review book is a dense, highly detailed look at the course material that goes a bit overboard in its capacity as a "review book."
If you get it a few weeks before the AP test in the hopes of quickly going over everything you need to know, you're going to be overwhelmed. Only buy this book if you plan to use it for a couple of months to prepare for the AP test or as a self-study resource that you'll use throughout the course.
This Barron's World History book is also for intense students who are genuinely very interested in the subject and would like to review content in more depth. If you have trouble paying attention to textbooks because of their dull writing style and are looking for something more student-friendly to keep you awake, you should probably get one of the first two books on this list instead.
Looking for help studying for your AP exam?
Our one-on-one online AP tutoring services can help you prepare for your AP exams. Get matched with a top tutor who got a high score on the exam you're studying for!
Best Supplemental AP World History Books
In this section, we give you two extra AP World History review books that you can use to further supplement your learning and the other books on this list.
McGraw-Hill's 5 Steps to a 5: AP World History: Modern, 2022 Edition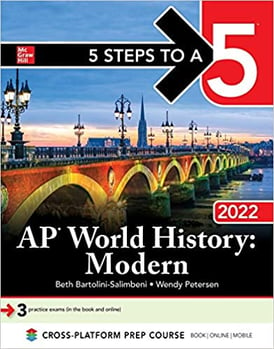 Price: About $16
Pros
Four complete practice exams (two in the book and two online)
A few different sample study plans to choose from to guide your studying
Helpful charts that summarize each unit
Short and more digestible than other review books
Cons
Contains way too much information that won't even appear on the new World History exam (for example, you don't need to study pages upon pages of ancient history when the AP test now has an exclusively modern focus!)
Not detailed enough to use to study for assignments throughout the year
Two practice tests are on the computer, which isn't how you'll take the real AP exam
Doesn't completely align with the new exam format and unit structure
Summary
This book falls between The Princeton Review and Crash Course regarding its level of detail in that it's easy to grasp and has a decent amount of practice materials. If you need more sample questions and want a book that gives you a straightforward, step-by-step study process, 5 Steps to a 5 is a nice resource to have.
Kaplan's AP World History: Modern Prep Plus 2020 & 2021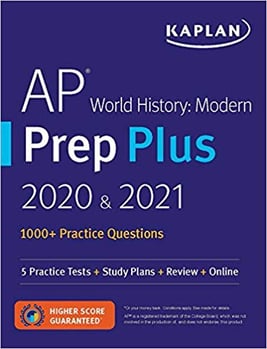 Price: About $23
Pros
Short pre- and post-chapter quizzes to test your knowledge and help you review
Online quizzes for additional practice
Cons
Assuming the questions in this guide are similar to what's been in previous versions, they're likely on the easier side and aren't as challenging as those on the real exam
Summary
Kaplan is a big name in test prep, and this book is comparable to that by The Princeton Review and Barron's—it's just slightly less impressive. In the past, Kaplan's World History books have suffered from poorly worded answer explanations and out-of-date information. This edition seems to rectify these mistakes–customer reviews are generally good so far!
Which AP World History Book Should You Get?
All these AP World History books are helpful in their own ways. We'd recommend starting with one of the first three, ideally whichever one aligns best with your time limits and style of learning. The Princeton Review book should be a good fit for a wide variety of students. If you have a month or two to study and are looking for a one-size-fits-all accessible guide to the test, you should go with that one.
The Crash Course book is better if you're short on time and just need a way to review all the key concepts quickly and efficiently. This is the best option if you only have a week or two until the AP exam or are looking for a book that just outlines the most essential concepts.
Barron's is best for self-study throughout the school year or review over the course of a few months. If you're an intense student and want a book you can use during the year to study for both in-class assessments and the AP test, Barron's will be the ideal option for you.
If you get one of the first three books and run out of practice materials or aren't a fan of the way the information is presented, you can go ahead and try one of the supplementary resources. Just be aware of the limitations these two books have in terms of their content and accuracy.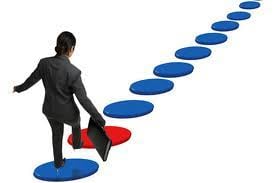 What's Next?
Need more practice materials for AP World History? Check out these links to every AP World History practice test available online and then look at these amazing DBQ examples.
You don't necessarily need to buy a review book to get some great study tips. Read our list of six key strategies for doing well on the AP World History exam.
When do you actually have to get yourself in gear and start studying for AP tests? Find out when to begin studying for your AP exams based on your goals.
One of the single most important parts of your college application is what classes you choose to take in high school (in conjunction with how well you do in those classes). Our team of PrepScholar admissions experts have compiled their knowledge into this single guide to planning out your high school course schedule. We'll advise you on how to balance your schedule between regular and honors/AP/IB courses, how to choose your extracurriculars, and what classes you can't afford not to take.
These recommendations are based solely on our knowledge and experience. If you purchase an item through one of our links, PrepScholar may receive a commission.
Source: blog.prepscholar.com