My Online College Experience | First Semester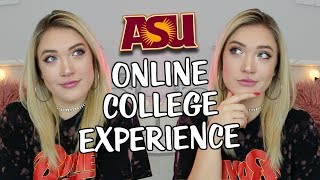 Subscribe & become my BFF♡ http://bit.ly/1RKK4ey
In today's video I'm sharing my first semester online college experience! I started attending ASU online this past fall and this is my honest experience being a transfer student from FIDM. I give my thoughts, share my class schedule, and answer questions all about online college. If you have any more questions please leave them below!
What online college am I "attending"? – ASU
What major am I? – Business Communication
Previous Video:
FOLLOW MY SOCIAL MEDIA!
Twitter- http://www.twitter.com/cicilyboone
Instagram- http://www.instagram.com/cicilyboone
Snapchat- snapchat://?u=cicilyjo7797
VIDEO EQUIPMENT I USE:
Canon Rebel T4i DSLR – http://bit.ly/2b6iQ7i
Tripod – http://bit.ly/2bhe43y
Studio Lights – http://bit.ly/2b6jmCy
Royalty Free Music from HookSounds http://www.hooksounds.com
Keep it Simple – composed by Nazar Rybak
'LIKE' my 'Cicily Boone' Facebook page to stay updated on videos, giveaways, events, meetups, & MORE!! https://www.facebook.com/cicilybooneofficial
Business Inquiries Only (feel free to contact me at): Subject Line-
Cicily Boone – business1@beaufreshmedia.com
This video is not sponsored, all opinions are my own.
Hey guys!! My name is Cicily Boone and I'm a 20 year old college student living in Los Angeles! I make lifestyle videos ranging from beauty, fashion, GRWMs, routines, and tutorials. I also post DIY recipes and more! Make sure you subscribe so you don't miss any of my new videos!! Don't forget to follow me on twitter (@cicilyboone), instagram (@cicilyboone), and snapchat (cicilyjo7797) to stay connected – social media links are in my bio. See you in my next video!