Howard University Renames College of Fine Arts After Chadwick Boseman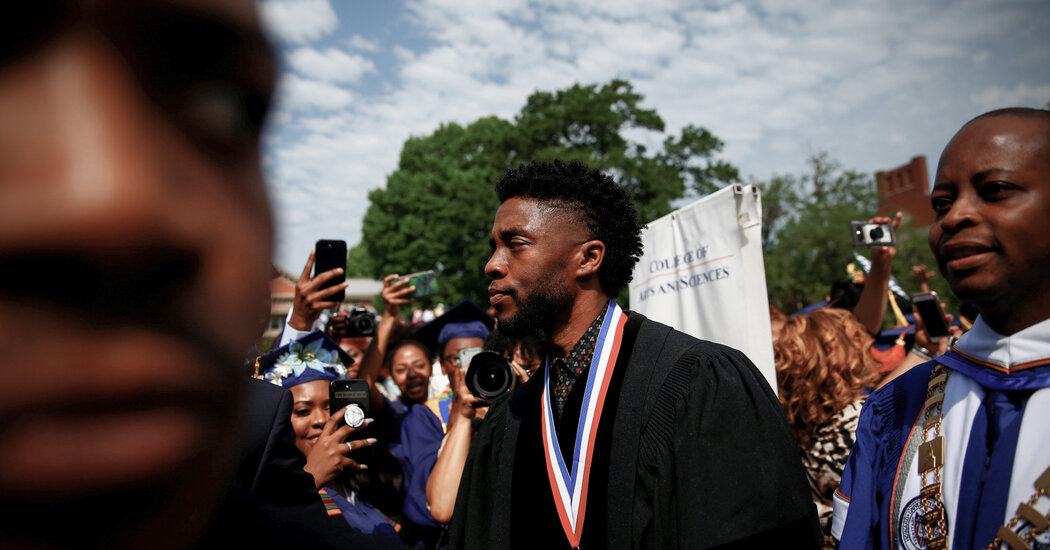 Howard University will name its newly re-established College of Fine Arts in honor of the actor and alumnus Chadwick Boseman, university officials said on Wednesday.
Before his death last year, Mr. Boseman had expressed his support for re-establishing the College of Fine Arts, Wayne A.I. Frederick, the president of Howard University, said in a news release.
"Chadwick's love for Howard University was sincere, and although he did not live to see those plans through to fruition, it is my honor to ensure his legacy lives on through the Chadwick A. Boseman College of Fine Arts with the support of his wife and the Chadwick Boseman Foundation," Mr. Frederick said.
He added that Robert A. Iger, the Walt Disney Company's executive chairman, would lead fund-raising efforts for a new facility. Mr. Frederick said Mr. Iger had "volunteered to lead the fund-raising effort to build a state-of-the-art facility and endowment for the college."
Howard, founded in 1867 and one of the country's leading historically Black colleges and universities, announced this month that the actress and alumna Phylicia Rashad would serve as dean of the college.
"Unrelenting in his pursuit of excellence, Chadwick was possessed with a passion for inquiry and a determination to tell stories — through acting, writing and directing — that revealed the beauty and complexity of our human spirit," Ms. Rashad said in the school's statement.
Plans to reestablish Howard's College of Fine Arts were announced in early 2018, the same year that Mr. Boseman served as commencement speaker. The new facility will also house the Cathy Hughes School of Communications and the university's television and radio stations.
Howard merged the College of Fine Arts with the College of Arts and Sciences in the late 1990s, after financial problems led to employee cuts. Students protested against the consolidation in 1997, and Mr. Boseman helped lead the demonstration, the school said. After graduating in 2000 with a Bachelor of Fine Arts in directing, Mr. Boseman remained involved in conversations about the school. He died of colon cancer last August at 43, and was nominated for an Academy Award this year for his performance in "Ma Rainey's Black Bottom."
Mr. Iger said in a statement that the college named in Mr. Boseman's honor would provide opportunities for future generations of artists to follow in his footsteps.
Stephen Moore, 31, who graduated from Howard with a degree in music history in 2013, said in an interview that the decision to rename the college couldn't have come at a more perfect time. He said the change may encourage students to "be as great, if not greater" than Mr. Boseman and Ms. Rashad.
"I think this will serve as a catalyst for not only current students but upcoming students to go beyond what we think is our best," Mr. Moore said. "Going back to what Mr. Boseman did in his career, he definitely personified our motto: excellence in truth and service."
But other recent changes at the university have not been welcomed.
Last fall, the university's board of trustees approved a decision to scrap the classics department, the only such department at a historical Black university. The decision drew ire and protests, leading to an online petition with over 5,000 signatures in support of saving the department. Students have also created awareness online, demonstrating with the hashtag #SaveHUClassics on their social media accounts.
Published at Thu, 27 May 2021 16:16:51 +0000
Article source: https://www.nytimes.com/2021/05/27/us/howard-chadwick-boseman.html