HOW TO GET GRANTS FOR COLLEGE | College Support Network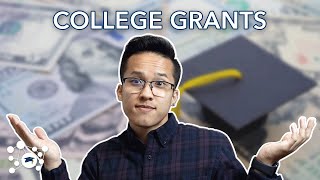 Hi everyone! For today's video I want to talk about everyone's favorite type of financial aid, grants! Grants are a great way to finance your college degree because it is money you don't have to pay back and the process to apply is usually quite simple! I'll be going over different financial aid programs and answer 4 key questions for you.
1. What exactly is this grant?
2. Who provides or offers this grant?
3. What are the eligibility requirements?
4. How can you apply?
Grants are awesome and I want you all to take advantage of it if you can! As always, please like, comment, subscribe, and share this video with anyone who may find it useful.
______
Don't have time to watch the full video? Don't worry, I've got your back!
0:00 Intro
2:25 Pell Grant
6:00 FSEOG
8:07 Cal Grant
10:30 Chafee Grant
12:13 Institutional Grant
15:10 Conclusion
______
Useful Links
https://studentaid.gov/understand-aid/types
https://studentaid.gov/complete-aid-process/how-calculated#efc
https://studentaid.gov/understand-aid/types/grants
https://studentaid.gov/sites/default/files/federal-grant-programs.pdf
https://studentaid.gov/understand-aid/eligibility/staying-eligible
https://studentaid.gov/understand-aid/eligibility/requirements
https://www.csac.ca.gov/cal-grants
https://chafee.csac.ca.gov/
https://studentaid.gov/understand-aid/types/military
______
Follow us on social media!
Twitter: http://twitter.com/Collegespprtnw
Instagram: http://instagram.com/collegesupportnetwork
Disclaimer:
This video is intended for educational purposes. The Information presented is current as of the date the video is posted. If you are viewing this at a future date, please understand that some information may no longer be relevant if colleges had updated their policies and requirements.
______
Royalty Free Music from Bensound
www.bensound.com