Coronavirus Briefing: What Happened Today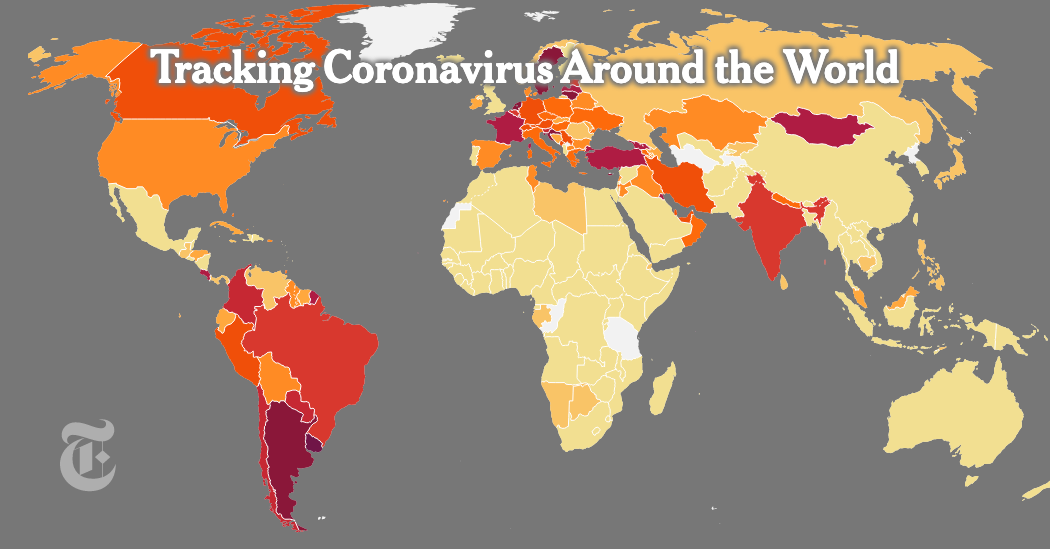 ---
Vaccinating young adolescents
The F.D.A.'s authorization yesterday of the Pfizer vaccine for 12- to 15-year-olds is a huge milestone in the battle against the virus, crucial for reducing its spread, reopening schools and returning to some sense of normalcy.
But what will the plan for young adolescents look like?
States and school districts across the country are now scrambling to figure out the best way to proceed. With the school year ending soon, it will be a race against the clock to schedule both recommended doses before summer break. Officials are also making plans to offer vaccines at pediatricians' offices, day camps, parks and even beaches.
Parents, whose consent is required by law, are perhaps the biggest complicating factor in vaccinating children. A recent survey by the Kaiser Family Foundation's Vaccine Monitor found that many parents — even those who eagerly lined up for shots themselves — were reluctant to vaccinate pubescent children.
Teenagers themselves may also be hesitant. Some may just hate getting shots, while others reason that because young people often get milder cases of the disease, a vaccine is not worth the risk.
That logic may not be sound: Patsy Stinchfield, a nurse practitioner who oversees vaccination for the Children's Minnesota hospital system, told The Times that more children had been admitted to her hospital recently, and the intensive care unit was currently treating patients who are 13, 15, 16 and 17 years old.
"If you can prevent your child ending up in the I.C.U. with a safe vaccine, why wouldn't you?" she said.
All 50 states require certain vaccines for children who attend school. But those mandates apply only to vaccines that have been fully approved by the F.D.A., and so far, no Covid vaccines have achieved that status.
Within months, eligibility for the vaccines is expected to expand to even younger children. Pfizer expects to seek emergency authorization in September to administer its vaccine to children as young as 2. Moderna's clinical trial results for its vaccine in 12- to 17-year-olds are expected in the next few weeks, and results from a trial of its vaccine in children 6 months to 12 years old are expected in the second half of this year.
---
Victims line the Ganges
Some cremation workers in India are charging five or 10 times the usual price for last rites. The price of wood has increased, too. Unable to afford a pyre, some families have started disposing of bodies in rivers, medical workers say.
Villagers discovered dozens of bloated corpses on the banks of the Ganges along the boundary of Bihar and Uttar Pradesh, two states where the virus is raging. Some officials said that roughly 30 bodies had been discovered along the holiest river in Hinduism. Witnesses put the figure at more than 100.
"I've never seen so many bodies," said Arun Kumar Srivastava, a local government doctor, who said that it was likely that some were Covid-19 victims.
After racing through New Delhi, India's outbreak has spread to rural areas with fewer resources. The country's infections are now surging in places where sickness and death are much harder to track.
Some states in the south have threatened to stop sharing medical oxygen with one another. At one facility, furious relatives smashed equipment in an intensive care unit after the oxygen suddenly ran out and their loved ones died while gasping for air.
Understand the Covid Crisis in India
The outbreak has officially killed a quarter of a million people in India, although experts believe that the true toll is much higher. On Tuesday, the health ministry reported more than 386,000 new cases and nearly 3,900 deaths.
---
Vaccine rollout
See how the vaccine rollout is going in your county and state.
---
What else we're following
David Leonhardt, in The Morning newsletter, explains how the C.D.C.'s announcement that "less than 10 percent" of Covid-19 transmission was occurring outdoors is deceiving. Evidence suggests it is much lower.

Andrew Ferren, an American citizen who lives in Madrid, wrote an essay about traveling to the United States to get vaccinated.

Shortages and production problems are driving prices higher for many everyday items, including used cars, medical care, appliances, energy, food and cigarettes, The Washington Post reports.

Philadelphia will lift all virus-related restrictions, except masking, on June 11. Washington, D.C., will lift most restrictions on May 21.

A Times photographer and our architecture critic lead a tour of public spaces that were transformed into vaccination centers.
---
What you're doing
I'm a minimalist by nature but this pandemic has heightened my downsizing efforts. During the past year, I have rearranged every piece of furniture and every kitchen appliance in my small house. If I didn't use it at least twice in the past year, it got recycled. Uncluttering my house has uncluttered my mind and my outlook for the post-pandemic times.

— Meg Macleish, Tucson, Ariz.
Let us know how you're dealing with the pandemic. Send us a response here, and we may feature it in an upcoming newsletter.
Sign up here to get the briefing by email.
Published at Tue, 11 May 2021 21:30:05 +0000
Article source: https://www.nytimes.com/2021/05/11/us/coronavirus-today-pfizer-teens-camp.html