Colt Brennan, Former University of Hawaii Quarterback, Dies at 37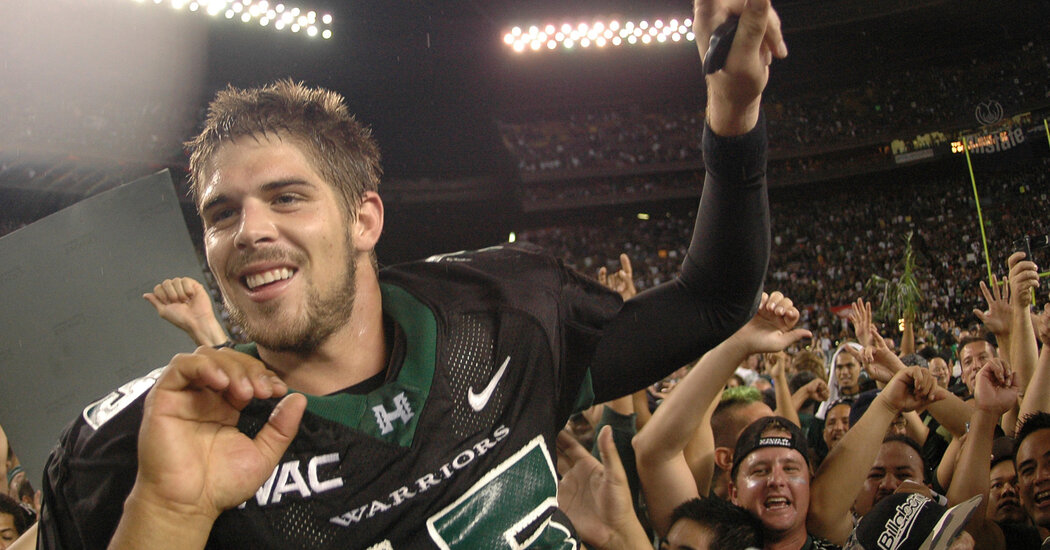 Colt Brennan, a former University of Hawaii quarterback who tied or broke dozens of N.C.A.A. football records, died early Tuesday morning at a hospital in Newport Beach, Calif., according to his father and the university. He was 37.
Mr. Brennan was admitted to Hoag Hospital Newport Beach on Monday after he ingested a substance believed to contain fentanyl, according to the police and his father, Terry Brennan. Colt Brennan had recently finished a four-month course of treatment at a rehabilitation center and was trying to recover from a substance use disorder, his father said.
"We're just trying to put the pieces together and trying to figure out what happened," he said.
Mr. Brennan's death stunned college football fans and his former coaches and teammates, who recalled his pinpoint accuracy on the field, his confident personality, and his love for Hawaii, where he became a celebrity. Fans would camp out overnight to get his autograph. Mr. Brennan would walk into class and see students waiting with bags of memorabilia for him to sign.
"In my 42 years of being involved in this program, I don't think there's ever been a player who's been more impactful on and off the field than Colt Brennan," Rich Miano, a former assistant coach for the team, said in a statement. "On a national scale, he took this program to a place that it's never been. Colt was the impetus of the greatest days in University of Hawaii history."
Colton James Brennan was born on Aug. 16, 1983, in Laguna Beach, Calif. He adored football as a child and described his commitment to the sport as a near obsession.
"I loved the game so much that it controlled my whole life," Mr. Brennan said in a 2007 interview with The New York Times. "My whole life revolved around football. When I did good in football, I was happy. If I wasn't doing good in football, I was miserable."
Mr. Brennan attended the University of Colorado Boulder and joined the football team as a walk-on in 2003, but in January 2004, a female neighbor accused him of sexual assault, indecent exposure, burglary and criminal trespass.
A jury convicted him of unlawful sexual contact that September, but a judge later dismissed the charge and Mr. Brennan was instead found guilty of second-degree burglary and first-degree criminal trespass. He spent a week in jail in 2005.
"What I did that night, I messed up," Mr. Brennan told The Times. "I made a major lapse in judgment. I was cocky. I was arrogant. But I didn't commit a crime. I had no bad intentions."
He left Colorado and played briefly at Saddleback College in California. He transferred in 2005 to Hawaii, where he became determined to start over and prove his worth.
"It was my getaway, my escape," he said.
He embraced the Hawaiian ethos of humility and took three semesters of Samoan as a way to bond with his offensive linemen, who were all of Polynesian descent. He braided his hair as a nod to his four starting receivers, who were known as the Dreadheads.
In 2006, he set what was then an N.C.A.A. record for touchdown passes — 58 — in a single season, raising the possibility that he would be recruited by the N.F.L. after his junior year.
Instead, he stayed on for his final year. The Rainbow Warriors finished the season 12-0 and made their only football bowl series appearance, in the Sugar Bowl, against Georgia on Jan. 1, 2008. Mr. Brennan was a Heisman Trophy finalist that season.
In the 2008 N.F.L. draft, Mr. Brennan was picked up by Washington. He was a backup for two years before signing with the Oakland Raiders, but he was cut before the regular season began.
In 2010, he was involved in a car crash that broke his collarbone and ribs, caused head trauma, and resulted in blood clots that would plague him the rest of his life, his father said.
After the accident, he relied on a cane and wore a leg brace, Terry Brennan said.
The younger Mr. Brennan moved back to Hawaii after his football career ended and had been living there until a few months ago when he returned to California to get treatment for his disabilities and his addiction problems, his father said.
Mr. Brennan tried to enroll in a detox facility over the weekend but was turned away because it was full, his father said. After that, he met with some people at a hotel room and ingested the drugs.
In addition to his father, Mr. Brennan's survivors include his mother, Betsy Brennan, and his sisters, Carrera Shea and Chanel Brewster.
Peter Thamel contributed reporting and Kitty Bennett contributed research.
Published at Wed, 12 May 2021 18:24:20 +0000
Article source: https://www.nytimes.com/2021/05/12/sports/ncaafootball/colt-brennan-death.html