Announcing the 8th Annual ED Games Expo: June 1 to 5, 2021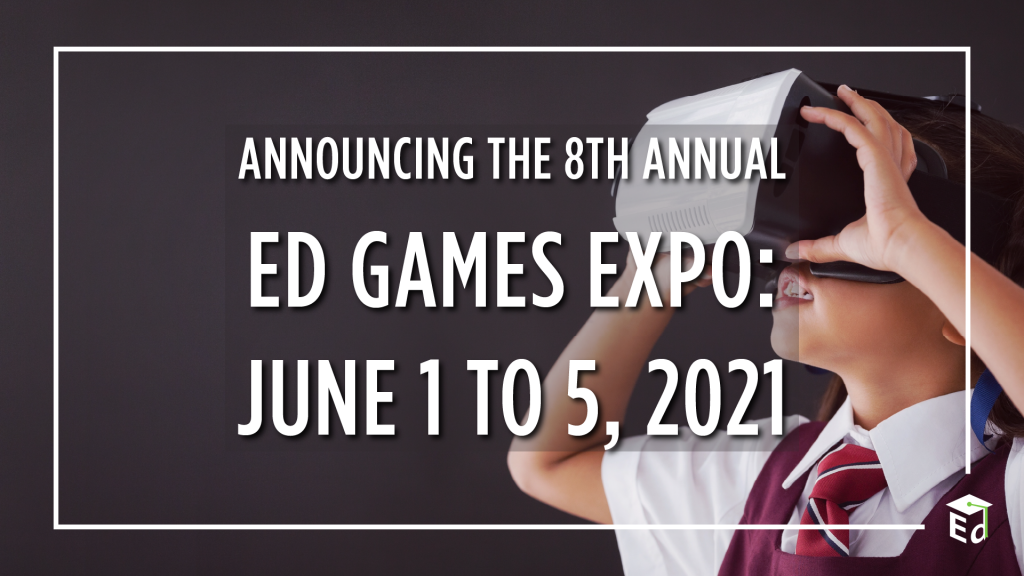 A Free All-Virtual Showcase of Game-Changing Innovations in EdTech
developed through ED and Programs Across Government
The ED Games Expo is an annual showcase of game-changing innovations in education technology (EdTech) developed through programs at the Department of Education (ED) and across the federal government. Since 2013, the Expo has been an in-person event at venues across Washington, D.C. Because of the COVID-19 national emergency, the 2021 ED Games Expo is moving online, from June 1 – 5, for an entirely virtual experience. Hosting virtually provides the unique opportunity to engage a national audience and to present content mindful of the pandemic and useful for educational programming in the summer and going forward.  
ED Games Expo: Featured Resources
A new set of YouTube playlists and an accompanying PDF guide will be released on June 1 to present video trailers for more than 150 participating government-supported learning games and technologies. These learning games and technologies are appropriate for children and students in early childhood to post-secondary education and special education, and cover a range of topics across STEM, reading, social studies, civics, healthy development, and others. Nearly all the resources are research-based – meaning studies demonstrate the usability, feasibility, and promise of leading to the intended outcomes. Many of the education technologies at ED Games Expo will be available to students and educators who are learning in-person or remotely at no cost during June 2021. Attendees will also have the opportunity to engage in virtual Q&A with developers during and after the Expo to learn more.
ED Games Expo: A Range of Online Events
The 2021 ED Games Expo Agenda presents the lineup for 35 online events to be broadcast during the weeklong Expo. The events are designed for a wide audience across the education technology ecosystem, including educators, students, parents and caregivers, developers, researchers, and other stakeholders.
Events include:
Master Classes for Educators: Eight Expo developers present use-case examples and guidance for implementing innovative education technology interventions to support in-person or remote learning across many different topics.
How the Learning Game was Made: Five teams of learning game developers inspire and prompt students to think about the many skills and careers involved in creating a learning game.
Showcase Events: More than 20 government agencies and offices that invest in education technology are broadcasting events to showcase their projects and initiatives. Just a few highlights from the week include events on: innovations in early learning and special education, learning games to combat disinformation, models to support remote tutoring, a live kick-off for a new NASA national student challenge, an esports competition with students from Historically Black Colleges and Universities, and forums where government leaders, experts, and practitioners reflect on the role of education technology during the era of COVID-19.
A Unique Kick Off Show: This year's Expo will kick off on June 1, 2021 at 8pm ET with a unique virtual event featuring a few of our favorite children's TV characters and puppet friends created through ED funded projects.
All Expo events are free and accessible to the public to watch online. Content from all events will be archived and available to watch on demand via YouTube after the event. Follow the ED Games Expo on social media @USEdGov and by using the #EDGamesExpo hashtag.
We hope you will join us in June!
Edward Metz is the Program Manager for the Small Business Innovation Research Program at the Institute of Education Sciences in the US Department of Education.
Published at Thu, 13 May 2021 14:05:26 +0000
Article source: https://blog.ed.gov/2021/05/announcing-the-8th-annual-ed-games-expo-june-1-to-5-2021/