An Improving Pandemic Outlook for Younger Americans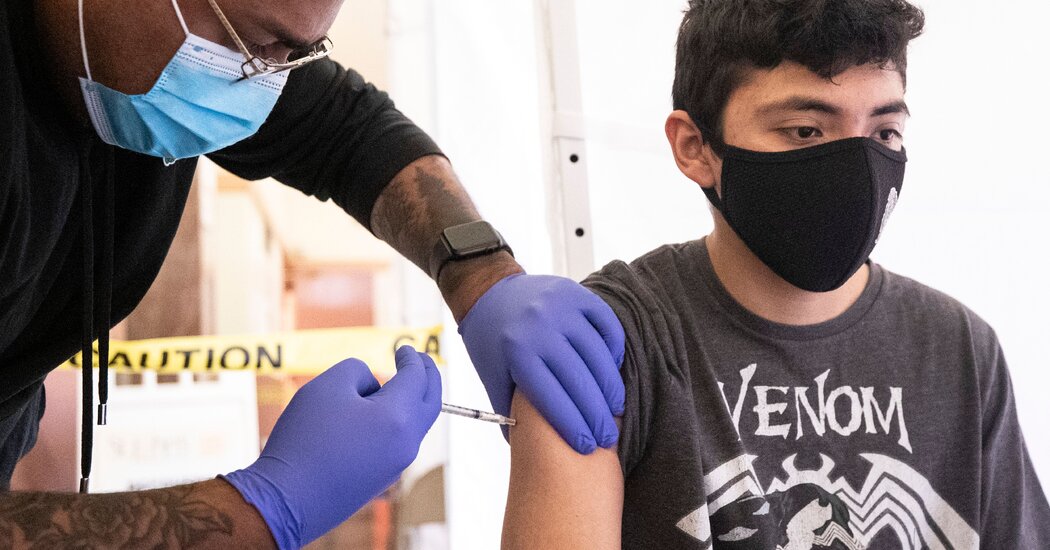 A series of vaccine developments and the loosening of restrictions amid an improving virus trajectory may foreshadow a welcome return to normalcy for many young Americans, just as summer vacation nears.
By early next week, the Food and Drug Administration is expected to issue an emergency use authorization allowing the Pfizer-BioNTech coronavirus vaccine to be used in children 12 to 15 years old, a major step ahead in the United States' efforts to tackle Covid-19. Pfizer also expects to seek federal clearance in September to administer the vaccine to children age 2 to 11, the company said on Tuesday.
Vaccinating children is key to raising the level of immunity in the population, experts say, and to bringing down the numbers of hospitalizations and deaths. It could also put school administrators, teachers and parents at ease if millions of adolescent students become eligible for vaccination before the next academic year begins.
The move would be a major leap forward, experts say, and comes as the director of the Centers for Disease Control and Prevention, Dr. Rochelle Walensky, said that vaccinated adolescents would be able to remove their masks outdoors at summer camps.
Yet the eagerness of parents to let their children be vaccinated is limited, according to a new national poll, which found that three in 10 parents surveyed said they would get their children vaccinated right away and 26 percent said they wanted to wait to see how the vaccine was working. About 23 percent said they would definitely not get their children vaccinated, and 18 percent said they would do so only if a child's school required it. The survey also noted that only 9 percent of respondents said they had not yet gotten a shot but still intended to do so, one more indication that achieving widespread immunity in the United States is becoming increasingly challenging.
As health experts focus on the future of vaccinating children, a growing number of students have returned to in-person learning this school year. In March, 54 percent of K-8 schools were open for full-time in-person learning, and 88 percent were open for either full-time in-person and/or hybrid learning, according to data from a federal government survey released on Thursday. But Black, Hispanic and Asian students are enrolled in full-time in-person learning at much lower rates than white students.
The Biden administration has made an aggressive push for reopening schools in recent months, including an effort to prioritize vaccinations for teachers and employees.
Published at Fri, 07 May 2021 05:43:46 +0000
Article source: https://www.nytimes.com/2021/05/06/us/pfizer-vaccine-children.html