7 TIPS FOR CHOOSING A COLLEGE LIST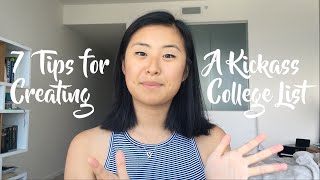 ✨ OPEN ME ✨ ~ now taking questions for my Q&A through YouTube comments/any social media platform ~
Hey pals – thanks for stopping by! Here are my 7 tips for creating a kickass college list, based on my experience with the college application process.
For all of the rising seniors applying to college, STAY STRONG – soon enough you'll be in my position, about to embark on a new journey in your life ?
If you have any questions, don't hesitate to shoot me a YouTube comment, a tweet, an Insta comment, or message on Tumblr – I'll be happy to help.
UP NEXT: Common App walkthrough, how to write the Common App personal statement, AND a college packing vlog!
✨ http://twitter.com/angiejwkim
✨ http://instagram.com/angievscollege
✨ http://chaifuelled.tumblr.com
✨ snapchat: anjesus