3 FAFSA secrets to help you get the most financial aid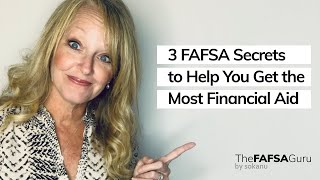 In this video, I will share the top 3 FAFSA secrets for getting the most financial aid possible!
*
*
*
The FAFSA Guru has spent 30+ years working in higher education, helping thousands of students find the financial aid they need to make college a reality. She knows exactly what you need to do to maximize your funding and minimize your debt.
Join the Financial Aid Academy for guidance every step of the way through the financial aid process.
https://www.thefafsaguru.com/p/the-financial-aid-academy