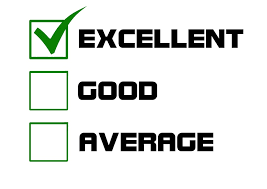 Generally, the better your grades, the more college options you'll have. However, some students a re under the false impression that you need straight As in order to get into a wonderful college. Students stress and worry that a few Bs will sentence them to an inferior university.
Fortunately, getting Bs won't prevent you from being able to go to a good school. There are a number of excellent colleges that admit B students. We'll provide a list of 29 of the best colleges for B students and explain how to find a good college if you're a B student.
Are You a B Student? You Can Still Go to a Great College
If you're at the end of your junior year or the beginning of your senior year and you have mostly Bs on your transcript, don't freak out: you can still gain admission to an excellent college.
Since super selective colleges will likely be a big reach for you, you might want to set your sights on quality schools that are significantly less selective. For example, Stanford only admits around 4% of its applicants, and its average admitted student has a high school GPA of 3.96/4.00. By contrast, the University of Michigan has an acceptance rate of 20%, and the average admitted student here has a GPA of 3.88/4.00.
As a B student, you might have trouble getting into schools in the top 50 on the US News and Forbes rankings lists; however, you might have a decent chance of getting into a school in the top 100. Considering there are over 3,000 four-year colleges in the U.S., the #100 college is still better than over 99% of colleges in the US.
For instance, according to our admissions calculator for Indiana University Bloomington, a student with a 3.74 GPA and a 28 ACT composite score would have about a 50% chance of getting accepted. Indiana University is currently ranked #72 by US News.
How Much Do Your Grades Matter for College Applications?
It should go without saying that your grades are a huge factor in determining your college options. In fact, grades are one of the most important factors colleges use when deciding whether to admit you.
According to a 2019 study on the state of college admission conducted by the National Association for College Admission Counseling (NACAC), 75% of colleges believe that overall GPA and grades in college prep courses are considerably important admission factors. Meanwhile, test scores from the ACT, SAT, etc., are deemed considerably important by only about 46% of colleges surveyed. This indicates that grades are by far one of the most important factors in college admission.
It's not just grades that mean something, though; colleges also want to see that you're challenging yourself with difficult courses. According to the NACAC study, 84% of colleges deem the rigor of a student's course load at least moderately important. In other words, just getting good grades isn't enough—you also need to get good grades in tough classes.
Although you can still get into a great college as a B student, if you have any extra time before your college applications are due, we recommend using it to try to improve your grades.
Not All B Students Are Created Equal
Colleges take many factors into account when determining admissions, including grades, classes, standardized test scores, extracurriculars, recommendations, and the personal statement.
All else being equal, a student who got all Bs in regular classes is going to be much less qualified than a student who got all B+'s in mostly honors and AP classes. Generally, this is reflected in your weighted GPA, which weighs harder courses more heavily than regular classes. So in this example, the student with straight Bs would receive a 3.0 GPA, and the student with straight B+'s (assuming they took four honors classes out of six total classes) would get a 3.97 GPA.
That said, you can compensate for lower grades by excelling in other areas. For example, if you had a 3.4 weighted GPA and a 33 ACT score, you'd probably be able to get into much more selective schools than would a student who has the same GPA as you and a 27 ACT score.
Also, you might be able to make up for lower grades if you exhibit exceptional achievement in your extracurriculars. If you're an Olympic-level athlete or a successful entrepreneur, you might be able to gain admission into the most selective colleges—even with some Bs on your transcript.
Overall, if you're a B student but want to get into highly selective colleges, focus on ensuring that all other components of your college applications are as strong as possible.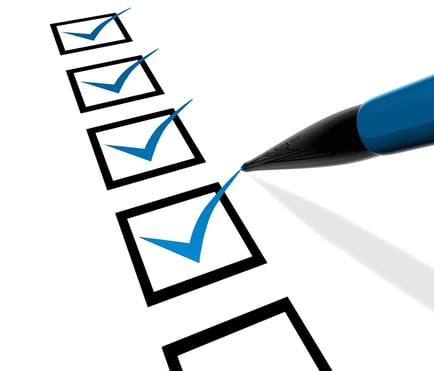 How Did We Create This List of Colleges for B Students?
We compiled this list of great schools for B students by looking at various ranking lists, including US News, Forbes, and Niche. We gave extra weight to the US News rankings because they're the most referenced and prestigious of the college rankings.
We considered a college accessible to B students if its average GPA for admitted applicants was less than a 3.75. If you've got a weighted GPA in the range of 3.30-3.80, all the schools below could be reach, target, or even safety schools for you. If your weighted GPA is less than 3.30, you might also want to take a look at the best colleges for students with a low GPA.
By no means does this list contain all the great colleges for B students. Ultimately, we tried to come up with a diverse list that included colleges from all regions and of all types, including large public universities and small liberal arts colleges.
List of the Best Colleges for B Students
Below, we introduce our list of great colleges for B students. We categorized all the schools by region: West, Midwest, Northeast, and South. For each school, we listed its location, US News ranking, average GPA, average SAT score, average ACT score, and acceptance rate.
Keep in mind that US News separates its school rankings into four categories: National Universities, National Liberal Arts Colleges, Regional Universities, and Regional Colleges. Most of the schools on our list are National Universities and National Liberal Arts Colleges; no Regional Colleges made the list. For all regions, the listed US News ranking is for National Universities unless otherwise noted.
Lastly, here are the ranges for GPA and other items on our list:
Average GPA: 3.33 to 3.90
Average SAT Score: 1185 to 1340
Average ACT Score: 25 to 30
Acceptance Rate: 32% to 83%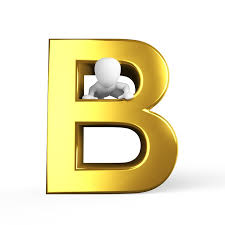 West
Data on this page is sourced from Peterson's Databases © 2022 (Peterson's LLC, All rights reserved) as well as additional publicly available sources.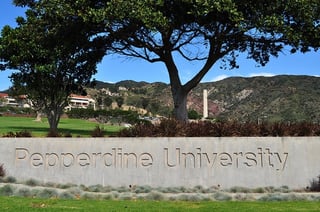 Pepperdine is pretty. (CampusGrotto/Flickr)
Midwest
Data on this page is sourced from Peterson's Databases © 2022 (Peterson's LLC, All rights reserved) as well as additional publicly available sources.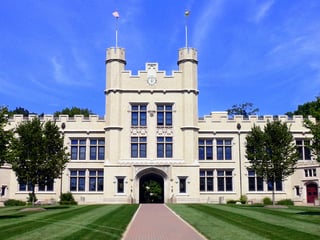 College of Wooster Kauke Hall (Maitri/Flickr)
Northeast
Data on this page is sourced from Peterson's Databases © 2022 (Peterson's LLC, All rights reserved) as well as additional publicly available sources.
Purnell Hall at the University of Delaware (Mathieu Plourde/Flickr)
South
Data on this page is sourced from Peterson's Databases © 2022 (Peterson's LLC, All rights reserved) as well as additional publicly available sources.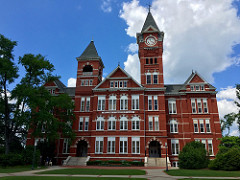 Samford Hall at Auburn University (Jason Coleman/Flickr)
How Should You Use This List of Colleges for B Students?
If you're a B student looking for a great college, be sure to research any of the colleges on this list that interest you. Use the school websites, finders, guidebooks, and ranking lists to guide your research. You can also go on college visits to truly get a feel for some of these schools and determine whether they might be a good fit for you.
We also encourage you to consult with teachers, counselors, parents, current students, and alumni to get more information and to further narrow your college search.
How to Find Other Great Colleges for B Students: 2 Resources
There are plenty of excellent schools for B students that didn't make the list above. Here are a few different ways to identify other colleges that might work for you.
#1: Big Future
On Big Future, you can't search for colleges by average GPA, but you can search for colleges by SAT/ACT score and selectivity. Because most good colleges for B students have an average SAT score of around 1200 and an average ACT score of around 27, you can look for colleges that match that criteria.
These colleges range from very selective (25-50% of applicants admitted) to less selective (more than 75% of applicants admitted). You can select additional search filters to help find schools that better fit what you want in a college.
#2: PrepScholar Database
Our PrepScholar database contains profiles for every college. A school's profile lists its acceptance rate, average GPA, and average standardized test scores. We also have an admissions calculator on every school profile so you can roughly determine your odds of admission based on your GPA and SAT/ACT test scores.
To find a school's profile, search for "[School Name] PrepScholar admissions" on Google.
Another great feature is located at the bottom of each school's profile page. There, you'll see three lists: schools that are harder to get into, schools that are equally hard to get into, and schools that are easier to get into. I suggest looking up the profiles of the schools on our list above to find other schools that are about as selective and to get even more good colleges for B students.
For instance, on our PrepScholar page for Syracuse University, University of California Santa Barbara, and UT Austin are listed as harder to get into, Penn State and Drexel University are listed as equally hard to get into, and Auburn University and Quinnipiac are listed as easier to get into. You can use these lists to identify other schools that might interest you.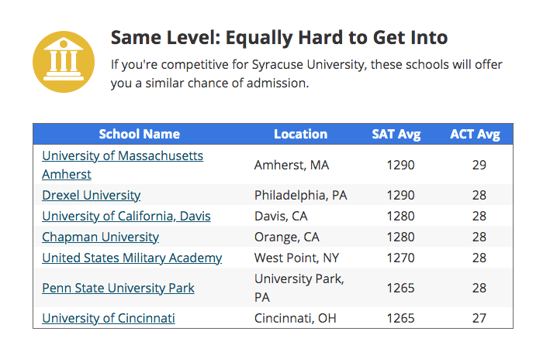 These are schools that are listed as "equally hard to get into" on Syracuse's profile.
How to Improve Your Chances of Admission
Even as a B student, there are a number of ways you can improve your odds of getting into your dream school; this depends on where you are in the college application process.
Here are some examples of things you can do to improve your application:
Follow an SAT or ACT study plan and give yourself time to take the test a second or even third time if your scores aren't up to par
Spend the summer before your senior year doing something incredibly interesting, such as traveling abroad or volunteering
Remember that colleges consider a multitude of factors when evaluating your application. By strengthening any of these components, you can increase your odds of being accepted!
What's Next?
Is it really important for you to attend a top-tier school? Find out if it really matters where you go to college.
Do you want to go to a college in the Midwest or the South? Then check out our lists of the best colleges in the Midwest and the South.
Are you looking for a traditional college experience in a fun setting? Learn about the 23 best college towns.
Want to improve your SAT score by 160 points or your ACT score by 4 points? We've written a guide for each test about the top 5 strategies you must be using to have a shot at improving your score. Download it for free now:
Source: blog.prepscholar.com