2021 College Football Top 25: Way-Too-Early Rankings Ft. Alabama, Oklahoma, Clemson & Ohio State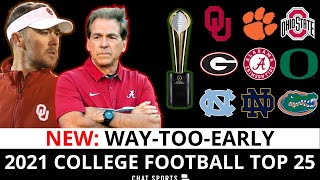 A way-too-early College Football Top 25 rankings for 2021 with the College Football National Championship in the books. Alabama beat Ohio State 52-24 in Monday night's national title game, so will they open up as preseason #1 in the early 2021 rankings? College Football Now host Harrison Graham breaks down the Top 25 teams for 2021 on today's video.
SUBSCRIBE to Chat Sports for more college football news, rumors, rankings & much more: https://www.youtube.com/chatsportstv?sub_confirmation=1
Alabama won their 6th National Championship since Nick Saban became head coach before the 2007 season by defeating Ohio State in Miami on Monday Night. Where will the Crimson Tide be ranked in 2021? Where will the Buckeyes start out in next year's CFB Rankings? The Clemson Tigers and Oklahoma Sooners should challenge for preseason #1 as well.
College Football blue bloods make up Chat Sports' way-too-early 2021 College Football Top 25 rankings as Alabama, Clemson, Ohio State, Oklahoma and Georgia hold the top 5 spots. Keep an eye on some up-and-coming programs including Texas A&M, North Carolina and Iowa State. Will Texas Football be highly ranked under new head coach Steve Sarikisian? Find out where the Longhorns sit in our rankings.
There are always sleeper programs in college football and the same will be true next season. Will Cincinnati be preseason top 10 with Desmond Ridder and Luke Fickell returning in 2021? What will Coastal Carolina do next season as an encore after a spectacular year in 2020? Indiana, Arizona State and NC State are some other programs who could surprise as well.
Chat Sports way-too-early CFB Top 25 Rankings for 2021:
#1 Alabama Crimson Tide
#2 Clemson Tigers
#3 Oklahoma Sooners
#4 Ohio State Buckeyes
#5 Georgia Bulldogs
#6 North Carolina Tar Heels
#7 Iowa State Cyclones
#8 Texas A&M Aggies
#9 Notre Dame Fighting Irish
#10 Cincinnati Bearcats
#11 Florida Gators
#12 Miami Hurricanes
#13 USC Trojans
#14 Indiana Hoosiers
#15 Texas Longhorns
#16 Oregon Ducks
#17 Iowa Hawkeyes
#18 Oklahoma State Cowboys
#19 Wisconsin Badgers
#20 Coastal Carolina Chanticleers
#21 Washington Huskies
#22 Northwestern Wildcats
#23 Arizona State Sun Devils
#24 NC State Wolfpack
#25 Penn State Nittany Lions
Interact with host Harrison Graham on Twitter: http://twitter.com/HGrahamNFL
Follow Chat Sports on social media:
https://www.facebook.com/chatsports
Tweets by ChatSports
https://www.instagram.com/chatsports
#CollegeFootballTop25 #CFBTop25 #CollegeFootball